The bee's knees
Honey is a healthier, natural sweetener.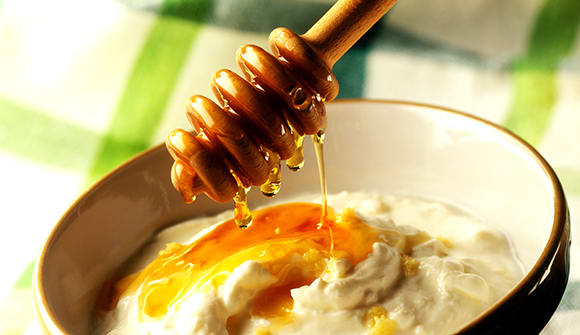 When it comes to sweeteners, Mother Nature seems to have had it right all along with honey. Our relationship with honey — the sweet, syrupy substance made by bees from nectar collected from flowers — dates back to prehistoric times.
There's evidence that people have been using honey to satisfy their sweet tooth in foods (and for medicinal purposes) for more than 8,000 years. Today, however, granulated sugar (i.e., white sugar, table sugar or regular sugar) is the most commonly used sweetener for home baking and other food preparation.
It may be time to rethink that.
Jenny Coalson, RDN, LDN, a senior wellness coach with the Healthy for Life wellness program for Baptist Health team members, says honey has some unique health benefits that give it a leg up on other sweeteners.
"Honey is a good source of polyphenols, which act as antioxidants in our bodies, making it an anti-inflammatory food. Honey is also minimally processed and in its natural state," she said.
Coalson added, "By contrast, table sugar is a very refined source of carbohydrates which can be pro-inflammatory and may exacerbate chronic conditions associated with inflammation such as cardiovascular disease, diabetes and non-alcoholic fatty liver disease. Due to honey's added health benefits, it may be a better choice than table sugar."
Honey can be substituted for table sugar in most baking recipes. If the recipe calls for 1 cup of sugar, you can replace it with 1/2 to 2/3 cups of honey, or to taste. Honey is sweeter so you can use less.
When possible, try to buy local raw honey for the best quality, Coalson said.
One of her favorite ways to use honey is to add about a teaspoon to your favorite hot tea. She also recommends simmering fresh ginger and lemon in water, then sweetening it with honey and cinnamon to make an anti-inflammatory and immune-boosting beverage.
Coalson is quick to point out, however, that honey is still considered added sugar and should be consumed in moderation. She recommends most adults consume less than 25 grams of added sugar per day.
It's important to remember that honey should not be fed to children younger than 12 months because it can contain the bacteria that causes infant botulism, according to the Centers for Disease Control and Prevention (CDC). Honey is safe for people 1 year of age and older.
---
If you have questions about healthy eating, Baptist Health Y Health Living Centers provide health coaching at locations throughout the community. You can learn more or request a free health screening online.
Source: Centers for Disease Control and Prevention; Honey and Health: A Review of Recent Clinical Research