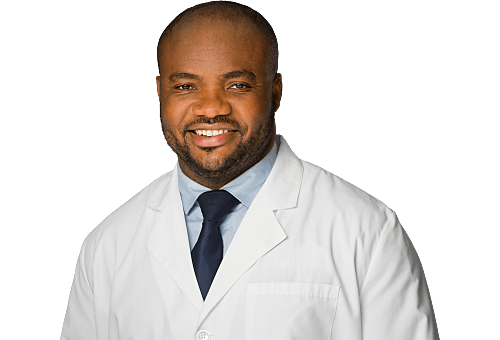 Chukwuemeka Anderson Obi, MD
Cardiologist
Chukwuemeka Anderson Obi, MD Office and Other Patient Information
Chukwuemeka Anderson Obi, MD Biography and Info
Chukwuemeka Anderson Obi, MD, is a compassionate and dedicated cardiologist with a commitment to providing exceptional patient care. With a focus on preventive measures, and a personalized treatment plan. Referring physicians can trust Dr. Obi for his comprehensive approach and extensive experience in addressing diverse cardiovascular needs. His areas of expertise include:
Preventive Cardiology and Lipid Management
High Blood Pressure Management
About Me
I cherish the moments I spend with my family, exploring nature and unwinding by the beach. There's something incredibly serene about the rhythmic sound of the waves and the captivating beauty of the seashore that renews my spirit and energy.
My philosophy of care is deeply rooted in empowering patients through education about their health and providing patient-centered care. We can work together to achieve the best possible outcomes by fostering a trusting partnership between doctor and patient. It's important to me that my patients feel heard and supported on their journey to better health, and I am dedicated to guiding them every step of the way.
I am committed to giving back to the community by volunteering my time to educate people about cardiovascular diseases and promoting heart-healthy lifestyles.
Specialties
Cardiovascular Disease
Internal Medicine
Boards
American Board of Internal Medicine (Internal Medicine)
Languages
Hospital Affiliation
Baptist Medical Center Jacksonville
Baptist Medical Center South
Legal Practice Name
Ages Treated
Chukwuemeka Anderson Obi, MD Additional Information
Education & Training
Doctor of Medicine - Medical School

University of South Carolina School of Medicine

2013 – 2017

Residency

Zucker School of Medicine at Hofstra/Northwell

2017 – 2020

Fellowship

Medical University of South Carolina

2020 – 2023
Frequently Asked Questions