Saving a heart 800 miles apart
Two children's hospitals combine expertise to save baby Dax.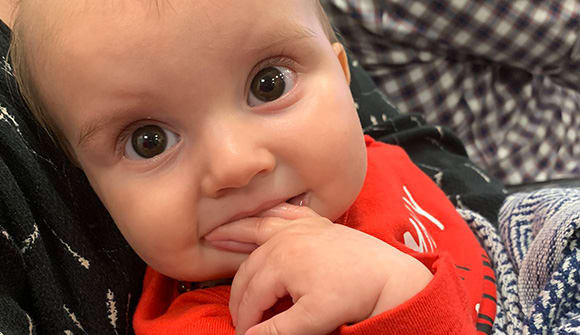 Curtis Dvorak, co-host of First Coast Living on First Coast News and the original Jaxson DeVille mascot for the Jacksonville Jaguars for 19+ years, has always believed in living in the present. His watch displays only one time: NOW. It's never slow, it's never fast, and it's accurate in every time zone.
So it's no surprise that even when he learned he would be a first-time father, he planned to focus on the now. Son Dax was born July 19, 2018.
Of course, it's expected that a new baby will cause a little bit of worry and new parents might need a visit or two to the pediatrician or the ER in the first months.
Still, Curtis and his wife Jasmine weren't prepared for the news they received that could impact their family's future.
They had taken two-month-old Dax to the Wolfson Children's ER due to breathing issues on September 20, 2018. There, the baby was diagnosed with respiratory syncytial virus (RSV), a common respiratory illness in infants, and Dax was admitted to the fourth floor of Wolfson Children's Hospital.
Around midday, pediatric hospitalist Kuo Chen, MD, examined the baby and told the new parents he believed he heard a heart murmur.
"It was 2 am and we were exhausted," said Curtis. "Maybe that's why I said this, but I told him we had been to the pediatrician and Dax was already two months old, so how could he have a heart murmur if he had been to the doctor?"
Still, Dr. Chen insisted on ordering an echocardiogram for Dax to rule out a heart defect.
A shocking heart diagnosis
Curtis and Jasmine weren't expecting the worst. Even when UF College of Medicine – Jacksonville pediatric cardiologist Andrea Kropf, MD, came into their son's room, they still thought Dax had nothing more than RSV.
"Dr. Kropf went over the different things [a heart murmur] could mean," remembered Curtis. "She mentioned that it could mean Dax had a partial or complete AVCD (atrioventricular canal defect)."
An AVCD is a complex heart condition that occurs when the valves and muscle walls separating the heart's chambers don't form completely while a baby is still in the womb. It is comprised of three heart defects: a hole in the heart wall (septum) that separates the upper chambers of the heart, called an atrial septal defect; a hole in the septum that separates the lower chambers of the heart, called a ventricular septal defect; and when the heart has one large valve between the atrium and ventricles instead of the normal two.
"Dr. Kropf said that a partial AVCD could be treated with medication and might resolve on its own," said Curtis. "With a complete, it would require open-heart surgery."
While the couple awaited the results of the echocardiogram, Curtis had already convinced himself and Jasmine that if their son had a heart defect, it would be "partial" rather than "complete."
But when Dr. Kropf pulled up the echocardiogram results, Curtis's own heart sank. "I don't know that much about the heart, but what I do know is there should be two chambers and four ventricles, and when I saw the echo results, I saw what looked like one chamber," he remembered.
Pediatric cardiologist: "It's complete."
"We felt helpless, like we couldn't do anything," Curtis said.
Dr. Kropf told Curtis and Jasmine that a surgical repair of Dax's heart defects would have to wait at least six weeks so he could recover from the RSV. He needed to be as strong as possible in order to have open-heart surgery to address his serious cardiac condition.
Fortunately, Michael Shillingford, MD, chief of Pediatric Cardiothoracic Surgery at Wolfson Children's Hospital, and Eric Ceithaml, MD, both pediatric cardiothoracic surgeons at Wolfson Children's Hospital, were able to schedule Dax for surgery December 6. They would be joined by a new partner with additional expertise in heart canal defects like what the Dvoraks' son had: Victor Morell, MD, chief of the Division of Pediatric Cardiothoracic Surgery at UPMC Children's Hospital of Pittsburgh.
That very month, Wolfson Children's had officially become a partner in the UPMC Children's Hospital of Pittsburgh Heart Institute Network, bringing additional heart surgery expertise from the #6 ranked Best Children's Hospital in the nation for pediatric cardiology and heart surgery to children in the North Florida/South Georgia region and beyond.
"Jasmine and I were happy to learn that the best minds in pediatric heart surgery in our region and in Pittsburgh were coming together to review Dax's case," said Curtis.
Giving Dax's heart surgery team a "pep talk"
Once Dax was given a surgery date, Curtis and Jasmine's lives became a blur of pre-op tests. At their first visit with Dr. Shillingford, they came prepared with a number of questions. Dr. Shillingford answered them all in his calm, collected – but also particularly compassionate – manner.
"When I met the Dvoraks, I knew right away that they were a loving, smart and informed family who wanted to know everything they needed to know about their son's very complex congenital heart condition," said Dr. Shillingford. "I am always honored to have the opportunity to impact the future of children like Dax and families like the Dvoraks."
When Curtis asked during Dax's pre-op visit if he could give a "pep talk" to the Wolfson Children's Hospital heart team, Dr. Shillingford was more than willing to make that happen.
Still, the day of surgery, Curtis was at a rare loss for words. In the holding room waiting for Dax to be taken back for surgery, he paced while his baby boy slept peacefully in Jasmine's arms.
"I was trying not to think," he said. "Then Dr. Shillingford walked into our room and said, 'You wanted to say something to the team?' And he brought in the cardiac anesthesiologist and nurses, and all I could think to say was, 'We love you guys and we believe in you guys. And you are going to do the best surgery you've ever done in your lives.'"
The Wolfson Children's team members were touched by Curtis and Jasmine's demonstration of trust in them. Curtis remembered, "The nurse who would be our main contact throughout surgery said, 'This is my baby now. We will treat him as if he is our own."
Parents camp out on Cardiovascular ICU
While Dax was in the surgery, the Dvoraks were updated on a regular basis by the cardiac nurse. Dax recovered on the Cardiovascular ICU (CVICU) for only eight days before being discharged home. He is healing remarkably well. Now seven months old, he is a happy, inquisitive healthy boy who charms anyone who meets him.
What Curtis and Jasmine remember most of all of their experience – besides what Curtis calls their "Wolfson Children's Hospital campout" in Dax's room on the CVICU – is the professionalism and compassion of the team.
"The entire process, start to finish, was amazing," said Curtis. "We can't say enough about how good they were, how professional they were. Their matter-of-factness was calming. They reassured us that 'We do this a lot.' We are so grateful to the team at Wolfson Children's Hospital and to Dr. Morell for what they have done for Dax and for our family."