20 seconds at the sink
The best handwashing routines, revealed.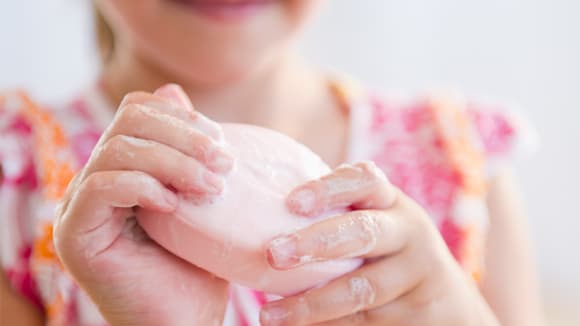 Happy birthday to you,
Happy birthday to you,
Happy birthday dear readers,
Happy birthday to you!
Times 2
Need a timer for washing your hands? The Centers for Disease Control (CDC) recommends scrubbing for at least 20 seconds – the equivalent of singing the "Happy Birthday" song from beginning to end twice.
In Almeria, Spain, researchers studied 911 children younger than age three from 24 daycare centers. One group used hand sanitizer to clean hands, one group used soap and water, and the control group followed its usual hand-washing routines.
After the eight-month study period, data revealed the hand sanitizer group missed 3.25 percent of days in daycare, the soap- and -water group missed 3.9 percent of days, and the control group missed 4.2 percent of days – suggesting hand sanitizer use cuts back on young children's sick days when compared to hand washing. Interesting? Sure. But Heather Applewhite, MD, a family physician with Baptist Primary Care, wants readers to know the truth isn't black and white.
"The study had limitations that can't be ignored," said Dr. Applewhite. "It's true that hand sanitizer can be a convenient option when soap and water aren't available, but hand sanitizer is not always a better choice."
The study was only done for respiratory illnesses. For common colds, hand sanitizer would be a good option to reduce spreading germs. When it comes to illnesses accompanied by diarrhea or when hands are visibly dirty, soap and water is the right option.
The study had a narrow and specific patient population with a limited age group and small number of daycare centers. The authors conjectured the reason why hand sanitizer users actually had fewer missed days of school was compliance. It's easier for energetic children under the age of 3 to use hand sanitizer frequently and correctly than the full, detailed soap-and-water routine.
Dr. Applewhite, who washes her hand more than 10 times a day and uses hand sanitizer more than 20 times a day, offered advice based on CDC recommendations for how and when to use each:
Hand Sanitizer:
Use when soap and water are not available.
Use hand sanitizers that are at least 60 percent alcohol.
Apply enough product to hands to cover all surfaces.
Rub hands together until completely dry (scrubbing for about 20 seconds). Wiping excess hand sanitizer off of hands before it dries reduces effectiveness.
Hand sanitizer is safe for children of all ages but children should be monitored when applying. Ingesting the product can be dangerous. Dr. Applewhite recommends that parents and caregivers carry hand sanitizer for use until soap and water is available.
Soap and Water:
Use when hands are visibly dirty, before and after food preparation and consumption, before and after treating a wound or caring for someone who is sick, after touching animals, after blowing your nose, coughing or sneezing, and after using the bathroom.
Wet hands with clean, running water.
Apply soap to hands and rub together, making sure it covers all surfaces. Dr. Applewhite recommends unscented, nonantibacterial soap, especially for those with sensitive skin.
Don't forget: Wash your hands for as long as it takes to sing the "Happy Birthday" song twice (about 20 seconds).
Rinse hands under clean, running water.
Air dry hands or wipe with a clean towel.
The CDC hand-washing website has a comprehensive list for all times when soap and water should be used.
Those 20 seconds at the sink can make a big difference in reducing the spread of illnesses, infections, diseases and germs!
Consult your primary care physician for more information about reducing the spread of germs. If you don't have one, visit baptistjax.com/bpc or call 904.202.4YOU to find a doctor near you.
CDC Handwashing Recommendations: cdc.gov/handwashing