Mick Jagger's valve replacement delays tour
Unique heart procedure with quick recovery available in Jacksonville.
Wesley Roberts Published: 4/5/2019
The Rolling Stones recently announced they were postponing their North American tour, including a stop in Jacksonville, Fla. Legendary rock icon, Mick Jagger reportedly underwent a heart valve replacement procedure earlier this week in New York.
Ruby Satpathy, MD, an interventional cardiologist with Baptist Heart Specialists and medical director of the Baptist Structural Heart Program, said Jagger could be rocking the stage in no time thanks to the relatively new procedure that will allow him to avoid open-heart surgery. You don't have to be a rock star to get rock-star treatment. Jagger's procedure, called a Transcatheter Aortic Valve Replacement (TAVR), is available in Jacksonville.
"Not long ago, open-heart surgery was the only solution for structural heart diseases," said Dr. Satpathy. "And quite often, patients who needed these procedures were too high-risk to receive the care they needed. Now we can 'treat the untreatable' using these minimally invasive procedures and our patients can start feeling better right away."
Love in 'vein'
The heart's structures include four chambers as well as valves that keep the blood flowing in the right direction, working together to keep blood traveling throughout the body.
While conditions affecting the structures of the heart are fairly common, more severe cases require care from structural heart experts like Dr. Satpathy.
The heart of a rock star
During the TAVR procedure, a physician makes the small incision in the groin and guides the TAVR device into the heart valve to replace the failing valve.
TAVR is designed for people with severe aortic stenosis, one of the most common heart valve issues, who are high-risk candidates for open-heart surgery. Aortic stenosis restricts the blood flow from the left ventricle of the heart to the aorta. Symptoms of aortic stenosis may include chest pain, shortness of breath, heart palpitations and fatigue.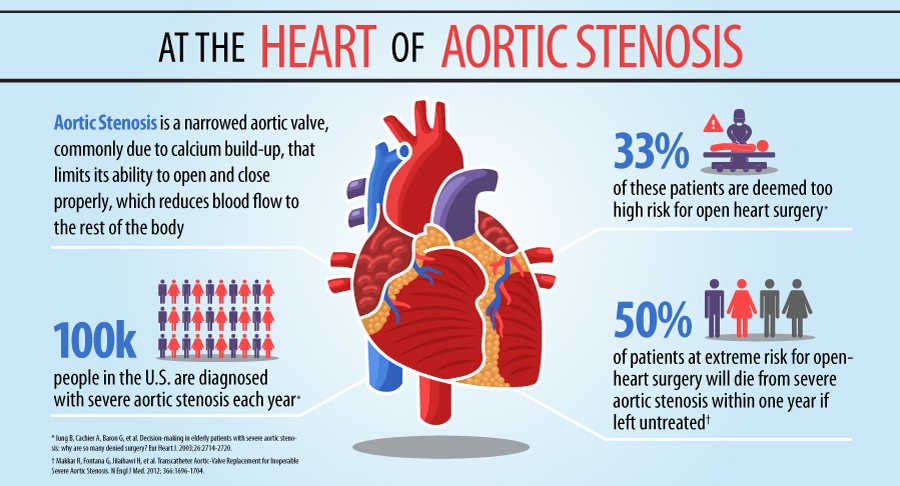 Image Source: Medtronic
'Time is on My Side'
Like the Rolling Stones 1964 hit single, time is on Jagger's side when it comes to recovery from his procedure.
For years, Dr. Satpathy has used a "magic stitch," a catheter-based, minimally invasive technique that avoids any incision in the groin.
This approach enables the use of twilight sleep (also called conscious sedation) for surgery instead of general anesthesia, and allows patients to walk a few hours after surgery. Often, they can go home the day after the procedure.
"With open-heart surgery, the chest is opened and the heart is temporarily stopped," explained Dr. Satpathy. "This isn't the case with the minimally invasive technique. We can do the procedure with a beating heart. That's a major benefit for our patients."
At-home recovery from open-heart surgery takes months but TAVR patients usually have a full recovery within a week.
'Dancing in the street'
On April 5, 2019, reports were released confirming Jagger is now in recovery after a successful procedure. It sounds like he'll be back "Dancing in the Street" and on stage very soon.
To find out if you are a candidate for minimally invasive treatment options, visit baptiststructuralheart.com or call 904.202.9500.
Close X