3 reasons you might be unhappy
And 10 tips from a psychologist to help you fix them.
Katie Mcpherson Published: 11/28/2018
Overloaded at work? Had a fight with your spouse? Maybe you're feeling a little lost and unsure of what you want next in life.
According to Cathleen Connolly, PhD, a psychologist at the Baptist Behavioral Health Beaches location, unhappiness in many of our lives comes from three primary sources:
Chronic stress that wears a person out physically and mentally (i.e., an overwhelming workload, long hours, chronic pain, financial stress or caregiving stress)
Loneliness and not having a strong support network or connections with others
Lacking a sense of purpose in one's life, whether it is in your work or your role (i.e.., student, mother, father)
But despite these imperfect situations, the trick to feeling happier is surprisingly simple: choose your attitude, and then take steps to reinforce it.
"Viktor Frankl was a Holocaust concentration camp survivor and psychiatrist who said, 'Everything can be taken from a man but one thing; the last of the human freedoms — to choose one's attitude in any given set of circumstances, to choose one's own way.' This is the key to most life situations," said Dr. Connolly. "Each person has to focus on what is in their control that day, what they can find a positive in and how they can be kind to themselves in the process."
She gives the example of a bad day at work. Reminding yourself you are providing a livelihood for your family may highlight the positive about what you're enduring. "Also, combat any negative feelings with self-compassion — not expecting perfection of yourself each day. Allow time for self-care, and praise your small victories for the day."
Dr. Connolly also recommends exercising gratitude daily to maintain positive emotions in the face of negative situations or stress.
"Review the day and focus on three to five things you are grateful for. Write in a journal focusing on gratitude for your gifts, like intelligence or good health, and other gifts, which could be as simple as nice weather. Focus on saying thank you more often, especially in family situations for things we usually take for granted. 'Thank you for doing the dishes' can go a long way for both people," she explained.
Happiness tips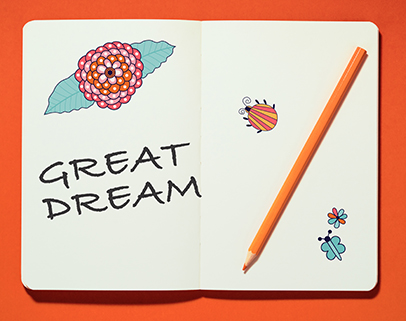 "Happiness is a feeling, so it is transitory, but it's also the result of doing actions that contribute to it, like being grateful, doing self-care activities, being with others, etc. Each individual can be purposeful in doing activities that contribute to their happiness. Happiness researchers — Action for Happiness is one such organization — have summed the following from happiness research. They call it GREAT DREAM."
Giving — doing things for others, such as volunteering or offering help to a friend
Relating — connecting with people, whether meeting new ones or spending time with friends or family
Exercising — taking care of your body, whether that means time at the gym or simply taking a walk
Appreciating — awareness of what you do each day and observing the joys of the world around you
Trying out — doing new things and exploring opportunities
Direction — working towards a goal at work, in a hobby or anywhere
Resilience — bouncing back after something negative
Emotion — being positive about what you do and reframing negative thoughts
Acceptance — acknowledging we all have faults and that things go wrong, but they don't determine your value
Meaning — being part of something bigger
While these tips have been proven to turn a bad day around, they may not work for everyone. If you find yourself losing interest in activities you enjoy or experiencing long-lasting feelings of sadness, it may be time to seek mental health care.
"I usually base this need off of the person's overall functioning," said Dr. Connolly. "We all can go through funks that may take us a few weeks to process; I often see individuals processing a milestone birthday for a few weeks. Clinical help may be needed when multiple symptoms are showing, both mentally and physically. For example, if their sleep and appetite are off, they can't focus or remember things like they typically do, and they have difficulty finding pleasure or joy in things that they would normally find it in."
If you are seeking a mental health care provider, visit Baptist Behavioral Health or call 904.376.3800 to speak with a patient coordinator and find one who is right for you. You can also visit a primary care physician for guidance.
Close X