A blessing in disguise
Wife's cardiac rehab appointment saves husband with stroke.
"Marvin! Marvin! It's time to go," shouted Marlene Watkins up the stairs to her husband. If they didn't leave the house right away, Marlene would be late to her cardiac rehabilitation appointment.
After suffering from a heart attack only a few months earlier, Marlene went to rehab at Baptist Medical Center Jacksonville every Monday, Wednesday and Friday. She was still sleeping in the downstairs bedroom as she regained strength to climb up and down the stairs.
The inseparable couple always went to appointments together, and it wasn't like Marvin to not be on time.
But Marlene heard no response when she called. She knew he was tired from planning the upcoming Passover Seder for family and friends, but she didn't want to be late.
'I was totally disoriented'
Earlier that morning, around 8:15am, Marvin chatted with his daughter on her way to work, a daily routine he enjoyed very much.
An hour after the phone call, when Marlene went to check on Marvin upstairs, he could barely talk. With slurred speech, unable to move his right arm, he managed to mumble, "My muscles feel weird."
Marlene panicked and called their daughter, Mandy, who verified her dad sounded normal on the phone earlier. Mandy was screaming to call 911, rushed to her parents' house and raced up the stairs. The ambulance was on the way.
When the first responders arrived, Marvin could barely speak. "I was totally disoriented," he recalled.
The first responders had Marvin in the ambulance in no time. Mandy begged the rescue team to take her dad to Baptist Medical Center Jacksonville. Because Marlene had suffered a stroke previously, Mandy was confident in the expertise at Baptist Medical Center Jacksonville's Stroke & Cerebrovascular Center.
Rapidly, Marvin had a CT scan which revealed blood flow to the left side of his brain was blocked. Only minutes later, he was in the operating room with Eric Sauvageau, MD, neurosurgeon and co-medical director of Baptist Stroke & Cerebrovascular Center.
"We use a special device known as a stent retriever to remove the clot in the brain. By puncturing the artery in his groin, we can navigate a catheter all the way in his brain vessel and reopen it," explained Dr. Sauvageau. "Fortunately, this minimally invasive procedure is quick and can save brain tissue and reverse or decrease the impact of stroke."
"It was unbelievable," said Marlene, who ironically credits her heart attack and cardiac rehab appointment for the quick discovery of her husband's stroke. "When I saw him again, he had no complications. His speech had returned to normal and he was moving. Everything was better in an instant."
Not passed on, passed over
Marvin's stroke occurred on the Friday before the Jewish holiday of Passover. The couple had already invited more than 30 people to come to their house for a huge Seder, a feast they had become known for hosting over the years, but Marlene, after much hesitation, called everyone to postpone.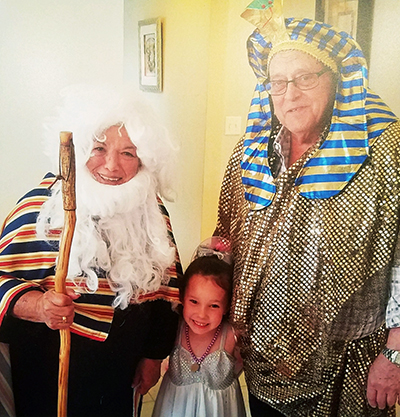 "We were passed over by the angel of death," Marlene explained, referencing the Passover story in which Jewish households were protected from plagues unleashed on Egyptian households. "We had a lot to celebrate."
The entire family was together a few weeks later and Marlene and Marvin dressed up as Moses and the Pharaoh. "My granddaughters, ages 3 and 5, are learning to celebrate life. They're learning about the importance of family and the gift of being together," said Marlene.
The couple agreed they had a "picture perfect" Passover Seder. "There's no reason we should be here. Marlene's heart attack was a blessing in disguise," said Marvin.
BE FAST and CALL 911 IMMEDIATELY if you observe any sign of a stroke. For more information, visit baptist.com/stroke.