Every minute matters
Grandmother recovers after stroke thanks to quick action by family and first responders.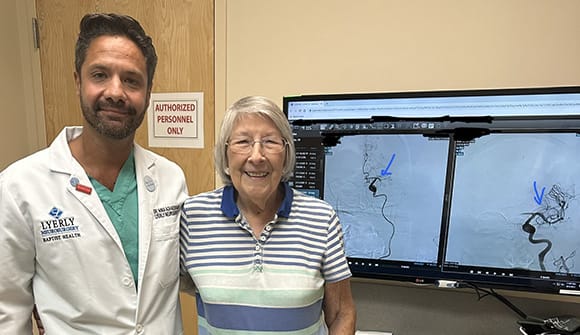 Memorial Day in 2023 will likely be one 87-year-old Sonia Cushing will not forget. It began like any other day in the busy house she shares with her two grandsons. But things took a dramatic turn when she returned from her daily 15-minute stroll in the sunshine.
"The last thing I remember was coming into the house," said Cushing. "And then I woke up at the foot of the stairs."
Time is brain
Cushing had experienced an ischemic stroke, the result of a blood clot that blocked flow of blood to her brain. She has high blood pressure and atrial fibrillation (Afib), both of which put her at a higher risk for having a stroke and heart attack. Fortunately, quick action by her family to recognize the signs of a stroke and first responders who knew to bring her to the comprehensive Stroke & Cerebrovascular Center at Baptist Medical Center Jacksonville – the regional epicenter for stroke diagnostics and treatment – meant she received prompt care.
As Cushing was en route to the hospital, neurointerventionalist Nima Amin Aghaebrahim, MD, was already on the phone with Cushing's niece, Beth, letting her know his team was ready because first responders notified them on the way.
"When she got to us, we didn't waste any time. We took her right into surgery," said Dr. Nima, who performed a thrombectomy, a minimally invasive procedure to remove the blood clot. When it comes to strokes, speed is essential. The quicker a patient is diagnosed and treated, the better the outcome.
"I was out of surgery within 40 minutes of my arrival at the hospital," said Cushing.
"There's the misconception that thrombectomies may not be as beneficial for older individuals," said Dr. Nima. "But that's not always the case, and Sonia is proof."
A remarkable stroke recovery
When Cushing first arrived at Baptist Jacksonville, she couldn't speak or move the right side of her body. But by the next morning, she was answering questions and improving.
"And my memory wasn't any worse than it had been before the stroke. I'm 87, you know, so it can take me a little longer sometimes," she said. In fact, she impressed everyone with her mathematical prowess. "I enjoy numbers. They gave me a number and kept asking me to subtract six from it. They said I was the only one able to really do that well."
Cushing spent six weeks working with physical therapist Hallie Pratt, PT, with Baptist Home Health Care by Bayada, to improve her mobility. Before her stroke, Cushing regularly used a cane, but Hammond persuaded her to try a walker for longer walks.
"I wasn't convinced at first, but she adjusted it for me and it really works," she said. "Hallie is so good; she's just made for her job."
Further, due to atrial fibrillation, the stroke team at Baptist Health started Cushing on a blood thinner to prevent a future stroke. In addition, on the advice of her Baptist Primary Care physician Fidel Garcia, MD, Cushing has changed her diet to include more fruits, vegetables and fish to reduce her cholesterol and blood pressure. She is also reading nutrition labels to monitor fats and is watching her salt intake.
"I still eat canned food like okra, but I'll mix it with frozen okra which doesn't have salt in it," she said. "It's all about moderation and knowing which things you can't overdo."
"God helps those who help themselves; he can't do everything for you. Baptist Health certainly helped me and I'm trying to do as much as I can with my diet and exercise," she added.
Being able to help patients like Cushing is what drives Dr. Nima.
"It's a challenging job that requires a lot of time and labor, but I love it because I love helping people and making a difference in their lives," he said. "My grandmother had a similar stroke, so this is very personal for me."
Cushing is now back to walking around her neighborhood twice a day.
"I tell everyone, 'If you have a stroke, you need to go to Baptist Jacksonville,'" said Cushing. "Everyone was great, and I am so thankful."
---
A stroke is a life-threatening emergency. If you or someone you know is experiencing symptoms, call 911 immediately. To learn more about the services Baptist Health offers for strokes, brain aneurysms and other cerebrovascular conditions, visit the Stroke & Cerebrovascular Center.