Like nothing happened
Nurse underwent four brain surgeries in two months.
Johnny Woodhouse Published: February 21, 2020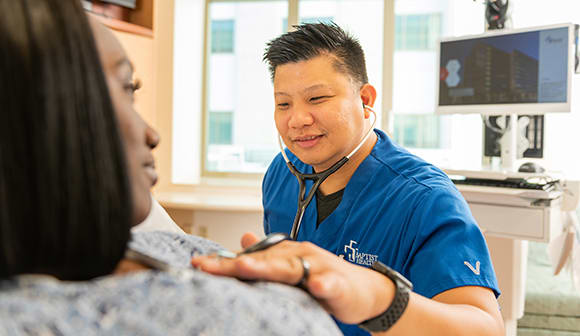 Gabriel Gan has a halo-like surgical scar that wraps around the front of his head, from one ear to the other.
The whitish mark is easy to make out, especially when Gan's thick black hair is cut short.
"It's very noticeable. I don't try and hide it from my patients," said the 38-year-old Baptist Medical Center South nurse, who works on a Progressive Care Unit. "When they ask me how it happened, I tell them."
In 2018, Gan underwent three non-invasive brain surgeries and one invasive brain surgery at Baptist Medical Center Jacksonville to treat an arteriovenous malformation (AVM), a complex tangle of abnormal arteries and veins that can cause continuous pressure on the brain.
AVMs can occur anywhere in the body, but when they occur in the brain they can cause a blood vessel to rupture, allowing blood to leak into the brain. This is a life-threatening condition that requires immediate medical attention.
Former NFL linebacker Neiron Ball, who was diagnosed with an AVM while in college, died from complications of a ruptured aneurysm in 2019. He was 27. Country star Drake White was diagnosed with an AVM in January 2019 when he was 35.
Three approaches
Gan first noticed something was wrong when he started having headaches twice a day while at work.
"On a scale of one to 10, my pain was about an eight," he recalled. "Then it started to affect my left eye. At first, I thought it was because I have high blood pressure and allergies."
After seeing his otolaryngologist, Justin Moy, MD, of Baptist ENT Specialists, Gan had a CT scan of his sinuses. The result: his sinuses were fine but something was amiss with his left frontal lobe. Further imaging tests detected the presence of a grade-2 or medium-size AVM measuring between 3 and 6 centimeters.
"My wife and I sat down and came up with a plan of attack," Gan said. "A friend of hers recommended neurosurgeon Ricardo Hanel, MD, PhD, co-director of the Stroke & Cerebrovascular Center at Baptist Jacksonville. She said he is top notch."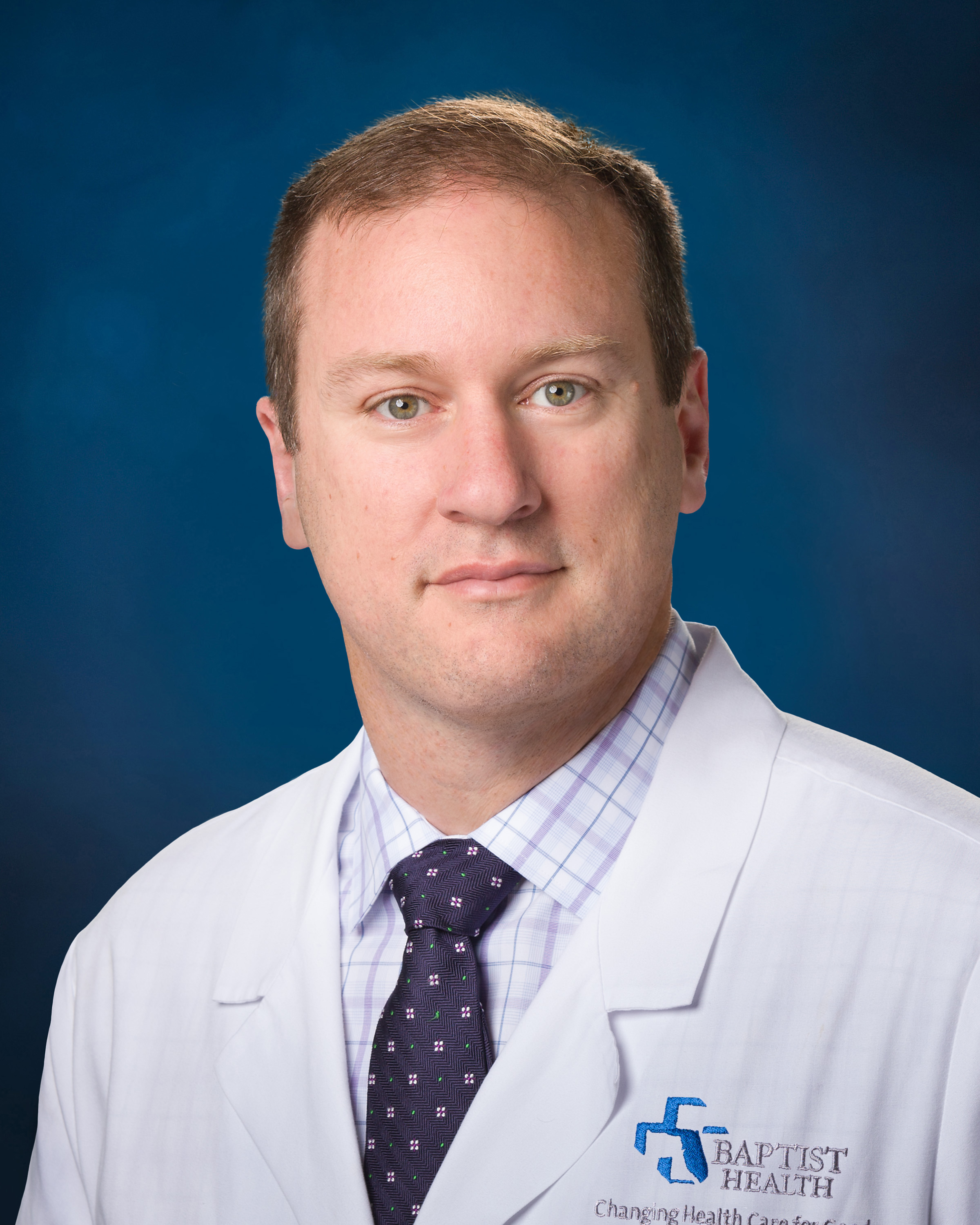 Dr. Hanel told Gan and his wife, Joyce, an assistant nurse manager at Baptist South, that he treats AVMs in three different ways: with conventional craniotomy, endovascular embolization, or radiosurgery.
In the first approach, a piece of the skull is temporarily removed to gain access to the brain. Then the neurosurgeon utilizes surgical tools to seal off and remove the AVM.
During minimally invasive endovascular embolization, the neurosurgeon threads a small, flexible tube or catheter through an artery in the groin until the tiny catheter reaches an artery that feeds the AVM with blood. The surgeon then injects either glue-like substances or tiny metal coils to block the artery and reduce or block bloodflow to the AVM.
Finally, in radiosurgery, the surgeon uses a high dose of targeted radiation beams to damage and eventually close the blood vessels that make up the AVM.
"I told Dr. Hanel to give me the good old-fashioned approach," said Gan. "We set a date for the craniotomy but first he had to plug up the blood supply to the AVM to minimize the risk of bleeding. That's when Dr. Hanel and my groin became acquainted."
No sugarcoating it
Gan underwent three neurosurgical procedures, including two embolizations, at Baptist Jacksonville before his craniotomy on May 18, 2018. One of the toughest parts of his entire AVM journey was reassuring his family members that everything was going to turn out OK.
"When you mention the words 'brain surgery,' everyone kind of pauses," Gan said. "My wife and I didn't sugarcoat anything. We said it was a complex and delicate procedure. Being in the medical profession, we were just very focused on the treatment. We knew we were in good hands with Dr. Hanel."
Despite significant advancements in the diagnoses and treatment of brain AVMs, what causes them is still a mystery. Most researchers believe AVMs occur during fetal development, meaning people who have this condition were likely born with it.
Added Dr. Hanel: "They're definitely a lot less common than aneurysms. An AVM creates a high-pressure system in the brain, making it more prone to bleeding. So, in Gab's case, we went through the groin first to shut down some of those tangled blood vessels and then opened the head and took them out."
Gan said he felt fine after waking up from surgery. The following day, family members flocked to his bedside, filling every inch of his recovery room. "Me being Filipino, there was food galore," he added. "But I had to pass a swallow test in order to eat. I told everyone in the room to be quiet while I did the test because there was no way I was failing that."
After passing a walking/stairs test on the third day, Gan was discharged home. Two months later, "after burning a hole in his couch," he went back to nursing on a limited basis and is now working full-time again and studying for a master's degree in nursing.
Gan takes pride in the fact that his halo-like surgical scar is another way he can connect with his patients.
"They can't believe I went through four brain surgeries in a two-month span and came back to work like nothing happened," he said. "I hope it gives them reassurance that they can come back from their surgeries, too."
If you or a loved one has been diagnosed with a brain AVM, you'll find the care and support you need at Baptist Lyerly Neurosurgery.
Close X