More than a migraine
The picture of health, fitness competitor suffers a stroke but powers through.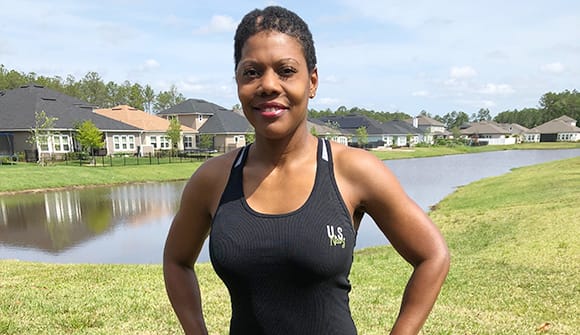 A fierce, award-winning fitness competitor, Nita Flores always considered herself the picture of health.
Besides having ongoing migraines since she was a teenager, she had no major complaints. So, when she started having headaches in November, the 42-year-old U.S. Navy officer thought she was having another migraine.
But over the next two days, the headaches became increasingly worse and medication was not helping.
"I felt like someone had a hammer and was pounding my head. It literally felt like my head was going to explode," Flores said.
A CT scan in the emergency room revealed a severe brain bleed or hemorrhagic stroke caused by a rupture in a weakened blood vessel in the right side of her brain. She was transferred from a local hospital to Baptist Medical Center Jacksonville's Stroke & Cerebrovascular Center where she eventually needed surgery to remove the blood in her brain.
Similar to a blood clot in the leg, Eric Sauvageau, MD, neurovascular surgeon and co-director of the Stroke & Cerebrovascular Center, said Flores had a clot in one of the main veins in her brain which caused the stroke. She was in a deep coma and on the verge of losing her life, Dr. Sauvageau said.
Because of the severity of the bleed and swelling in her brain, Dr. Sauvageau performed a decompressive hemicraniectomy where part of her skull was removed and later replaced in a follow-up surgery.
While she did not have typical stroke symptoms (sudden loss of balance, blurred vision, face drooping, arm drifts downward when raised and slurred speech), Dr. Sauvageau said a severe headache is also a sign of a stroke and medical attention should be sought.
One of only seven hospitals in the state certified as Comprehensive Stroke Center, the Baptist Stroke & Cerebrovascular multi-disciplinary team offers not only minimally invasive procedures but a full range of comprehensive treatment based on the patient's condition.
Flores' stroke resulted in weakness on her left side, problems speaking and her peripheral vision was initially impacted. But today after months of speech, physical and occupational therapy with Brooks Rehabilitation, she is speaking clearly and on the mend.
"She's made an amazing recovery," Dr. Sauvageau said.
Prior to her stroke, Flores learned she was up for a promotion to lieutenant commander. Her teen daughters participated in the April ceremony and she is back to work part-time. She's also a few classes away from receiving her Master of Science in Nursing.
Flores, who was born and raised in Haiti and in the U.S. Navy for 20 years, said she's blessed for all the medical professionals that assisted in her care, including Dr. Sauvageau, the nurses and team at Baptist Jacksonville.
"My whole life changed in a matter of days," added Flores, who works out several times a week and was preparing to compete in a muscle and fitness competition after winning similar competitions in Spain and Italy.
She encourages others not to take any symptoms lightly.
"Just because you are healthy or had migraines in the past, it doesn't mean that it's a normal migraine. You have to seek medical care – the sooner, the better," Flores said. "The last thing I expected was to have a stroke. It just shows you how a stroke is not something we can underestimate. It can be very debilitating and it happens so fast."
May is National Stroke Awareness Month. Stroke is the No. 2 most common cause of death worldwide behind heart disease. More than 795,000 people suffer a stroke in the U.S. each year. Baptist Health's neurovascular team is world-renowned for minimally invasive stroke treatment and often consulted on by surgeons from around the globe.