Not naïve about aneurysms
Woman didn't want to suffer the same fate as her late husband.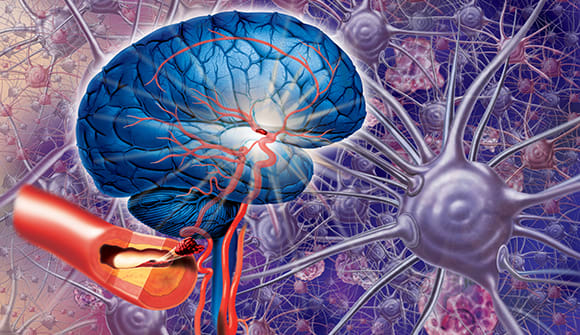 Twenty years after her husband died of a ruptured brain aneurysm, Anna Gaudet found out she had not one but two aneurysms in one of her carotid arteries, which supply blood flow to the brain.
One measured more than 5 millimeters in diameter, or the size of a pencil-top eraser. The other measured 1.7mm.
Neurosurgeons often recommend surgical treatment for any aneurysm measuring more than 5 millimeters.
"They told me the larger one had probably been there for five years, but I never had any symptoms until last May," said the 78-year-old Mandarin resident, who spent nearly 30 years in medical billing. "I wasn't naïve about aneurysms. When they get that big, they need to be fixed."
A brain aneurysm is a weakened area in the wall of an artery. Preventing blood flow into an aneurysm helps keep it from rupturing.
Women at higher risk
In May, when Gaudet started experiencing vision problems in her right eye, she checked into the emergency room at Baptist Medical Center South, where she was told she had a detached retina. Alarmed by her impaired gait at the time, the ER doctor ordered a CT scan of her head and neck, along with a brain MRI, to rule out a possible stroke.
The MRI came up negative for stroke but the CT revealed a 5.3 mm aneurysm in her left carotid artery and a smaller "daughter" aneurysm. She was connected to Baptist Lyerly endovascular neurosurgeon Eric Sauvageau, MD, co-director of the Stroke & Cerebrovascular Center at Baptist Medical Center Jacksonville.
Even before her first consult with Dr. Sauvageau, she was well aware of how serious an aneurysm could be. After all, her late husband, Tom, suffered a ruptured aneurysm when he was 72.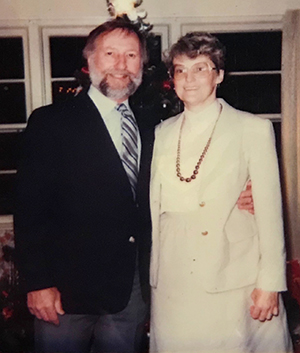 "He was at the bank ordering a cashier's check when it happened," she remembered. "He died before he even reached the hospital."
According to the Brain Aneurysm Foundation, about 30,000 people in the U.S. suffer a brain aneurysm rupture each year. Forty percent of all ruptured brain aneurysms are fatal and approximately 15% of people with a ruptured aneurysm die before reaching the hospital.
Women are more likely than men to have a brain aneurysm, and women over the age of 55 have a higher risk of rupture than men.
Gaudet said she didn't want to suffer the same fate as her husband and was relieved to know her aneurysms would be managed through brain surgery by Dr. Sauvageau.
A new approach to aneurysm surgery
After discussing her treatment options, Dr. Sauvageau elected to perform a minimally invasive procedure called endovascular coiling, where tiny metal coils shaped like springs are surgically placed in the affected brain vessels to seal off an aneurysm, forming a mesh-like structure.
The procedure involves threading a microcatheter through a small incision in the artery of the groin. The catheter is guided through a blood vessel and up into the brain using fluoroscopy, a type of medical imaging that shows a continuous X-ray image of a moving body structure on a monitor, much like an X-ray movie.
After her surgery, Gaudet spent the night in the Neurocritical Care Unit at Baptist Jacksonville and was discharged from the hospital the following morning.
"I expected to have some discomfort after the surgery, but I wasn't even sore," said Gaudet.
"Because of her age, it's extremely unlikely that she will develop another aneurysm, but there's always a small possibility that the ones we treated may regrow," said Dr. Sauvageau. "We will monitor her via MRI just to keep an eye on them."
Gaudet, who aspires to live to be 100, said every time she sees Dr. Sauvageau, she just wants to throw her arms around him and tell him how much she appreciates his total commitment to her care.
"I will be forever grateful to him for the rest of my life," she added. "I'm his biggest cheerleader."
Symptoms of a brain aneurysm
A brain aneurysm that has not ruptured often does not cause any symptoms and may not pose an immediate health risk, especially if the aneurysm is small.
Over time, an aneurysm may grow larger and press up against delicate nerves and tissue in the brain. If this occurs, you may gradually experience one or more of the following symptoms:
headache
pain above or behind one eye
blurred or double vision
difficulty speaking or swallowing
numbness or weakness on one side of the body, including the face, an arm or leg
seizures
If a brain aneurysm ruptures, it usually causes a sudden, severe headache — often described as the worst headache of one's life. You also may experience the following sudden symptoms:
loss of consciousness
confusion
a seizure
nausea and vomiting
stiff neck
sensitivity to light
numbness or weakness
blurred or double vision
A ruptured brain aneurysm is a medical emergency that requires immediate treatment.
If you have a family history of brain aneurysm, visit Lyerly Neurosurgery. For more information on this condition, visit Understanding Brain Aneurysm on baptistjax.com.