Stroke 'out of nowhere'
Nurse recovers from so-called brain attack.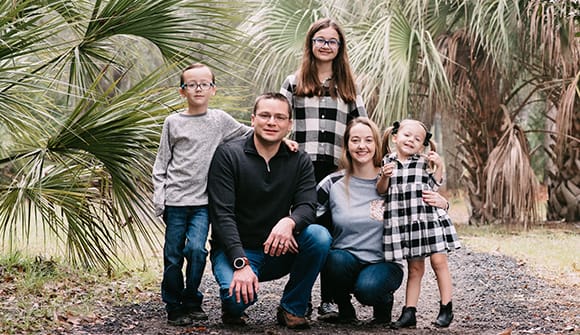 When Sarah Bocchino woke up on Easter Sunday in 2021, the first thing she did was make herself a cup of coffee. The 35-year-old nurse and mother of three had worked the night before and was scheduled to return to work that evening, but then the unexpected happened: she had a stroke.
"I spilled my cup of coffee and my husband noticed I was drooling, one side of my face was drooping and my speech was slurred," said Bocchino, who has worked at Wolfson Children's Hospital for 16 years, the last five in the NICU at Baptist Medical Center South. "I didn't realize what was happening and I told him I was fine, but thankfully he knew better and called 911."
The ambulance quickly arrived and took her to Baptist Medical Center Jacksonville's Stroke & Cerebrovascular Center, a Joint Commission-certified Comprehensive Stroke Center.
Rapid treatment
Before Bocchino even arrived at the hospital, the stroke team was prepared to act quickly.
"I remember a lot of hands touching me, and they kept telling me, 'You had a stroke, but it's going to be OK.' As a nurse, I hear codes called for patients all the time when I'm at work. I remember thinking, 'Oh my goodness, they are calling a code stroke on me!' That's when it all set in for me that I was actually having a stroke," said Bocchino.
Within the next few minutes, she was evaluated rapidly by Mohamad Chmayssani, MD, neurocritical care physician with Lyerly Neurosurgery, who administered alteplase, an FDA-approved clot-busting medication that helps improve recovery for stroke patients.
Then, Eric Sauvageau, MD, endovascular neurosurgeon with Lyerly Neurosurgery, performed a minimally invasive, fast-acting emergency procedure called a mechanical thrombectomy to remove the clot and get blood flowing to Bocchino's brain.
"Getting immediate treatment is vital in stroke recovery," Dr. Sauvageau said. "It is important for people to recognize the warning signs of stroke and if they experience any symptoms or see someone else having them, they should call 911. Brain cells die quickly during a stroke, so the faster you get treatment, the better outcome you're likely to have."
Top-notch care
Dorothy Adair, APRN, stroke program coordinator at Baptist Medical Center Jacksonville, understands that getting immediate medical attention at a Comprehensive Stroke Center, like the one at Baptist Health, can help save your life and prevent long-term brain damage.
"It's a multidisciplinary team approach. We collaborate with the physicians, nurses, operating room team and many other areas, including department managers and leadership," she said. "We work closely with them because it takes all of us working in sync to provide the highest standard of care."
Stroke protocol is put into place as soon as a patient reaches the emergency department, and the patient is followed throughout the hospital stay. Each patient also receives a call at home seven days after discharge to make sure he or she understands the discharge plan and medications, according to Adair.
"Anyone who is having a stroke should be transported to the appropriate hospital by ambulance or helicopter, because emergency medical services (EMS) know where to take you and they will call ahead so our team is ready when you arrive," Adair said, who noted not all hospitals are "created equal" when it comes to treating stroke. "At Baptist Health, the emergency department doctor meets the patient as soon as first responders bring him or her in; there is no wait."
Best-case scenario
After just four days in the hospital, Bocchino went home. She had no permanent side effects from her stroke and is already going on walks, playing with her children and back caring for patients in the NICU.
"I feel like this came out of nowhere. I'm very active. I'm on my feet a lot, I work out 4-5 days a week and I run around after my kids. I never knew this could happen to a healthy 35-year-old," Bocchino said.
Bocchino has had a pacemaker since she was a newborn and has a congenital heart condition that is well controlled, but those were not believed to be contributing factors to her stroke.
"My stroke caused a lack of oxygen to the brain, and that can create a lot of long-term problems. But that was not the case for me," said Bocchino. "I believe getting the proper treatment so quickly was probably the biggest factor in my recovery. Everybody was on their A-game and they took care of me immediately. That played a huge role in me coming out of my stroke 'best-cast scenario.'"
---
Time is brain when it comes to stroke. BE FAST and call 911 if you or a loved one experiences any sudden loss of balance, vision changes, facial drooping, arm weakness or speech difficulty. Lyerly Neurosurgery offers expert treatment for stroke and resources for cerebrovascular care. To request an appointment, call 904.388.6518.