Fueled by fire, driven by courage
A firefighter's close call with cancer.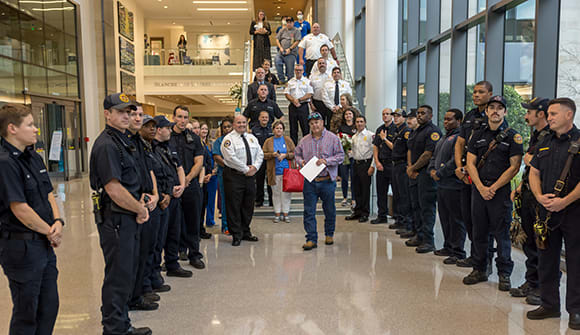 In January 2022, Jason Hersey, a Bradford County Fire Rescue lieutenant, celebrated his 50th birthday. Skipping the big party and candles, Hersey decided to schedule his annual checkup with his primary care physician. While there, his doctor joked around with him and told him that since he hit the milestone of turning 50, it was time for him to start doing "grown-up" stuff.
Hersey's physician recommended he do a mail-in screening test for colon and rectal cancer. Hersey had no idea his birthday present to himself was going to be the gift of life. 
Put the 'act' in proactive 
Unexpectedly, despite having no signs or symptoms of GI issues, Hersey's test came back positive. Although there was a very low possibility of the test being a false positive, he decided to be proactive and schedule a colonoscopy.
Hersey was shocked to get his results, which indicated he had a malignant tumor. He processed the information calmly and did his regular shift at the fire station the next day.
"From the first day, I never had a doubt, fear or concern," said Hersey. "I had an overwhelming sense of peace about the whole thing." 
Good things come in threes
Arriving back at the station, just after receiving a call from one of his friends who was a patient at Baptist MD Anderson Cancer Center, Hersey was approached by two of his chiefs with contact information for the center as well.
"Sitting right there, my chief walked in and handed me a printed copy of the same thing my other chief had just given me on a sticky note," Hersey remembered. "That was no coincidence. That was a sign from God."
During Hersey's initial visit, the Baptist MD Anderson team reviewed his colonoscopy and pathology report, performed a general medical examination and ordered additional staging CT scans and labs.
Hersey was offered a novel approach to his cancer. He underwent a robotic colectomy with a complete mesocolic excision and intracorporeal anastomosis. This enabled the surgeons to get a better removal of the tumor and drain the lymph nodes while restoring his intestinal tract with only small incisions.
Combined with Enhanced Recovery Protocol, he was offered an opportunity to go home the next day. 
The results of Hersey's pathology came back and showed stage II cancer, which meant it involved the wall of his colon, according to Ron G. Landmann, MD, chief of Colon and Rectal Surgical Oncology at Baptist MD Anderson Cancer Center.
"Jason came to Baptist MD Anderson completely asymptomatic with no evidence of clinical symptoms, no signs of bleeding, no weight loss or anything that could lead anyone to think he had colon cancer," said Dr. Landmann. "In his case, the mail-in screening test and subsequent colonoscopy are what saved his life."
According to the American Cancer Society, when colorectal cancer is found at an early stage before it has spread, the survival rate is about 90%. The guidelines for colorectal cancer screening recommend both men and women at average risk for colorectal cancer begin screening at the age of 45 years.
"More than likely, if he had continued to wait, the staging could have progressed to a stage III or stage IV cancer," said Dr. Landmann. 
Semper paratus
Over the next six months, Hersey underwent treatment at Baptist MD Anderson. 
Hersey received a robotic colectomy and was discharged the next day. During this robot-assisted approach, surgeons may remove malignant tumors of the colon and rectum, as well as benign tumors and polyps using very small incisions, resulting in much less pain, less narcotic needs and a shorter length of stay. He was able to get up, walk around and eat immediately after the surgery.
"I never felt bad. I never hurt – nothing," said Hersey.
Eight weeks after his procedure, Hersey was cleared to go back to work. His three-week chemotherapy cycle lined up with his work schedule, so he was able to work throughout his treatment.
The biggest hurdle Hersey faced was not the surgery or the chemotherapy, but the realization that he had to take a step back to recover and allow others to help him through.
As a firefighter, Hersey was used to living by the motto "semper paratus," which meant being always ready for any type of emergency. He was always prepared to be on the front lines.
"The hardest part for me was to wrap my head around the fact that I wasn't supposed to be doing what I normally did and had to sit around," said Hersey. "I am the first one to jump up and try to help somebody else."
Hersey's girlfriend, Kelli Moreland, came with Hersey to every single appointment. Being present with him through all his appointments and procedures has been an eye-opener to her and prompted her to schedule her own screening appointments.
"I'm glad he stuck with it and did what he needed to do," Moreland said. "He's taught me a lot."
"What I discovered is that if you don't let people help you, you're stealing a blessing from them," said Hersey. "People do stuff for you because they want to, and not because they have to." 
'One big, dysfunctional family'
Through Hersey's surgery and recovery, his family of firefighters stood by him at every turn, with home-cooked meals and donations from their own pockets, some even donating their paid time off to him so he would never miss a paycheck.
One person even offered Hersey often-needed and greatly appreciated advice, which included a gift of a wooden cross that he carries in his pocket every day.
When they heard Hersey had his last appointment scheduled, they wanted to do something big.
In January 2023, roughly one year after his diagnosis, Hersey underwent his final chemotherapy appointment at Baptist MD Anderson. After ringing the bell signaling the end of active treatment, Hersey thought the best part of his day would be to go home and relax on the couch – he was wrong.
To his surprise, both the Bradford County and Jacksonville Fire Rescue Departments had rallied brothers and sisters from different units to surprise him. As Hersey descended the stairwell, he was overcome by the emotion of seeing the many faces of his fire family.
"I was appreciative of all of our guys and girls who came that day," said Hersey. "But when I saw that there were other people from other stations that I'd never met or worked with, it solidified the whole meaning behind brotherhood." 
Officially in remission, and aside from having to come back to Baptist MD Anderson for follow-up appointments, nothing is stopping Hersey from serving his community with his fire family. 
"We're all just one big, dysfunctional family," he said. "We all do our thing, but at the end of the day, it's all about the support for each other." 
Don't let the call determine the attitude 
One of the biggest takeaways from Hersey's journey was having a positive mentality.
As firefighters, they are often the first people on the scene of an accident and/or an emergency. In these crucial situations, it's important to not let the nature of the call affect the overall outlook on the task at hand.
"We don't get the luxury of seeing people on their good days, but rather seeing them on sometimes the worst day they will ever have," said Hersey. "The way you treat people and the way you present yourself not only represents the department and you, but it has a difference in the outcome and attitude that those you are helping are going to have. That is how I felt with Baptist MD Anderson's team."  
Burning passion 
Hersey has made it his priority to help others who may be going through a similar situation. He has become an advocate for Baptist MD Anderson Cancer Center's First Responders Program, where a multi-disciplinary team collaborates with local fire departments and associations to ensure frontline responders undergoing treatment receive the education, contacts, resources and benefits information they need.
"For there to be a facility like Baptist MD Anderson that specializes in leading-edge colorectal cancer management is a comfort because I can pass it on to my guys if they have something wrong or a serious diagnosis," said Hersey. "A place that they can go for answers." 
---
Baptist MD Anderson Cancer Center provides care for its first responders through its First Responders Program. To learn more, click here.
Source: American Cancer Society