Soundtrack for surgery
Bond over music builds trust in the operating room.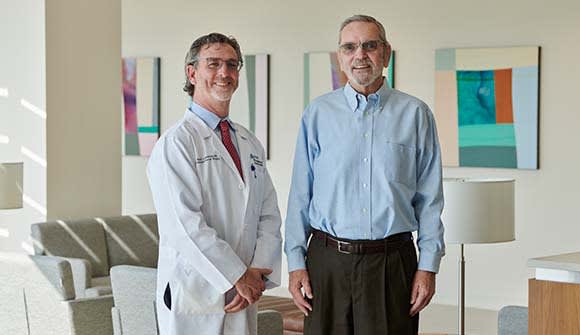 When John Jones was referred to Baptist MD Anderson Cancer Center for surgery, he had no idea he would gain a new outlook on his everyday life, from his diet to his level of physical activity.
Jones, 72, had been recently diagnosed with two colon polyps that couldn't be easily removed through a colonoscopy. Colon cancer runs in Jones' family, and he wanted to make sure he found the best treatment option for him if he, too, had the disease. He met with Ron G. Landmann, MD, chief of Colon and Rectal Surgery at Baptist MD Anderson.
Dr. Landmann reviewed Jones' case and recommended a minimally invasive robotic surgery. However, he said Jones would need to improve his overall health before the procedure could take place.
'ERAS'ing bad habits to help improve surgical recovery
Dr. Landmann guided Jones through this process, which is a key component of the Enhanced Recovery After Surgery (ERAS) protocol. Changes in the long-established routines before, during and after surgery are helping people recover faster, leading to a 37% reduction in length of stay and a 21% reduction in opioid use for colorectal surgery patients, according to data from Baptist MD Anderson and Baptist Health.
During the surgical preparation process, Dr. Landmann discovered Jones was an undiagnosed diabetic. He needed to follow a healthier diet and exercise daily for his surgery to be successful.
Prior to his procedure, Jones had to lower his A1C level to minimize wound and anastomotic (bowel) complications. With the support of his family, he started to make healthier choices.
"Dr. Landmann told me he could do his part, but I would have to do my part," he said.
Jones eliminated excess sugar from his diet by cutting back on his beloved Red Bull and sweet tea. He also started walking for two miles or more each day to improve his cardiovascular health. Throughout the entire process, Jones lost a total of 30 pounds, five of which were after the surgery. Additionally, he lowered his A1C level.
Less pain, more gain
According to Dr. Landmann, when patients take the time to improve their health prior to surgery, they see better results.
"We know when patients improve exercise tolerance, reduce excess body weight, quit smoking, increase nutritional status and protein levels, and improve diabetes and blood sugar control, there's a reduction of serious complications following colorectal surgery," said Dr. Landmann. "Patients need to prepare their bodies before surgery because it leads to a better outcome for them and their family."
Jones underwent a robotic colectomy, and the surgery was successful. Dr. Landmann was able to go in and remove the mass that contained the colon polyps, which pathology later identified as precancerous. Post-surgery, Jones didn't need radiation or chemotherapy.
He returned home after just two days. During recovery, Jones was able to get up on his own, walk with a walker and eat full meals. When he felt a little pain immediately after surgery, the care team was able to manage it without opioids.
This approach leads to better sleep in the hospital, minimal nausea or gastrointestinal distress, better appetite, and a faster recovery after surgery. It has also been shown to dramatically improve outcomes, minimize pain and shorten hospitalization.
"Dr. Landmann had plenty of confidence in me and my ability to improve myself, and I felt it," Jones said. "He told me what I had to do, and I trusted him."
Music for a successful surgery
When Jones first arrived at Baptist MD Anderson, he had no idea he was going to trust a man who resembled one of his favorite rock and roll guitarists. But he found comfort throughout the entire process, especially when Dr. Landmann said he would play Eric Clapton's music over the speakers during his surgery.
"That was the beginning of our bonding, and I'm not sure if he did play the music or not," said Jones. "But in these types of situations, you have to have this level of comfort and trust in your doctor."
Jones' biggest piece of advice to people with similar circumstances is to do what your doctor asks because, "if you cheat, you're only cheating yourself."
And for those wondering, Dr. Landmann did play Eric Clapton during the procedure.
---
Interested in a faster recovery after surgery? 
Baptist Health and Baptist MD Anderson Cancer Center use ERAS to help surgery patients spend less time in the hospital and get back to normal activities sooner. To learn more, visit www.baptistjax.com/ERAS.
Find a cancer specialist at Baptist MD Anderson
This story was originally published in March 2022.