'Every day is a gift'
Playtime bump leads to rare cancer diagnosis.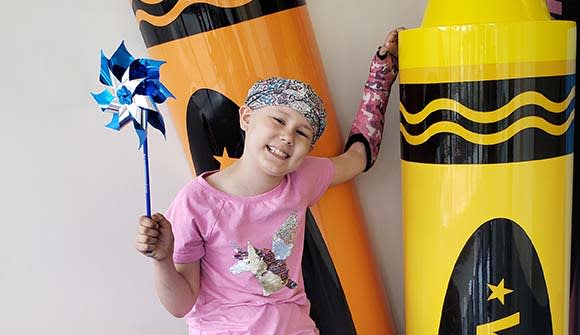 The first day of school signals an exciting new beginning for all children, but few were likely as excited to return to class as 9-year-old Mila Ivanoff. The St. Johns County fourth grader is a star student, despite the grueling battle she's fought for the past year.
"She missed more than half of last year and still managed to get top scores on both her reading and math standardized tests," said Jenna Ivanoff, Mila's mom. "I'm so proud of her. She's so strong and so brave."
A bump and a lump
As any parent will tell you, it's not uncommon for a child to get a little banged up in the middle of an active play session. In November 2021, Mila was playing in her bedroom when she bumped her left forearm on the bedframe. Her mother noticed a little lump and took her to a nearby urgent care facility for an X-ray to make sure the arm wasn't broken.
Though the imaging didn't reveal a fracture, the lump on Mila's arm continued to grow. About four weeks later, Ivanoff took her daughter to an orthopedic specialist for another X-ray.
"He immediately said, 'Something's not right here,'" Ivanoff remembered. "It was terrifying. He was very upfront and told us he had reached out to many of his colleagues to discuss what he saw. And he used the words, 'They think it's cancer.'"
'Total disbelief'
Mila was sent immediately to Wolfson Children's Hospital of Jacksonville for a CT scan, MRI and biopsy, which ultimately led to the diagnosis of osteosarcoma, a type of bone cancer. She started chemotherapy within days.
"It was a whirlwind," Ivanoff recalled. "I was in total disbelief. Osteosarcoma is rare in children Mila's age, so I was thinking it can't be."
According to Scott Bradfield, MD, chief of pediatric hematology/oncology at Wolfson Children's Hospital and interim division chief of pediatric hematology/oncology for Nemours Children's Health, Jacksonville, osteosarcoma is most commonly diagnosed in teenagers during the growth period, around 12 – 17 years old.
"Most are found when a child feels some kind of pain, discomfort or when a parent notices a mass. Although many kids have 'growing pains,' any discomfort in the same bone location for more than two weeks should be checked out," Dr. Bradfield said.
Treatment timeline
Initially, the Ivanoff family prepared for the fact that Mila might lose her left arm. Amputation is sometimes required to ensure all of the tumor is removed. However, after 10 weeks and two rounds of chemotherapy, the mass shrunk to a size where Courtney Sherman, MD, and Peter Murray, MD, pediatric orthopedic surgeons with Wolfson Children's, Nemours Children's and Mayo Clinic, were able to remove it all.
Ultimately, Mila underwent six rounds of chemotherapy, lasting 30 weeks, and received her final treatment on June 23, 2022.
"It was difficult physically and emotionally for our whole family," Ivanoff said. "The team at Wolfson Children's Hospital tried to make it as normal as possible for Mila throughout her stays. She loved doing Art with a Heart and playing with the Child Life specialists, but it was really tough."
Throughout the journey, Ivanoff took comfort knowing her daughter was in good hands.
"When we first got the diagnosis, we looked all over the country to see where we could go to get the best treatment for Mila, because we would have moved anywhere. And as we started researching, we found that we had it right here in our backyard at Wolfson Children's Hospital and Nemours Children's Health, Jacksonville," she said.
Dr. Bradfield said, "We have an excellent team of multidisciplinary experts here for treatment of bone tumors, with board-certified pediatric oncologists who have trained under national sarcoma experts. Our team of physicians, nurses, social workers, Child Life specialists, music therapists, and psychologists really provides care for the whole child."
Strong and smiling
After completing treatment, Mila will continue to be monitored through follow-up imaging scans to ensure there are no new tumors.
"Osteosarcoma patients get bone scans, chest CTs and X-rays every three months for the first year following treatment. After that, they're spaced out further until we stop after five years. The most common place we see osteosarcoma spread is to the chest and lungs, so we keep a close eye on that area," said Dr. Bradfield.
Though the fear of recurrence is always in the back of her mind, Ivanoff is focused on taking each day as it comes.
"You've just got to keep hope and take it one step at a time," she said. "Every day is a gift. We try to make the most of every single day."
For those who are just getting the news every parent dreads, Dr. Bradfield assured, "Our expectation is to cure. Success rates have drastically improved for the great majority of pediatric cancers over the last decades. Our experienced and compassionate team is here to care for the whole family."
---
A childhood cancer diagnosis can feel overwhelming. Wolfson Children's Hospital and the pediatric hematologists/oncologists with Nemours Children's Health, Jacksonville, provide a spectrum of care for children fighting cancer and support for the whole family. To learn more, visit wolfsonchildrens.com/cancer.