More than 'fine'
How to get your kids to open up about their day, friends and more.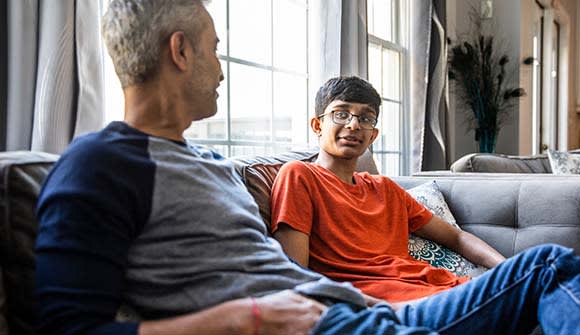 "How was school?"
"Fine."
"Did you learn anything new?"
"Not really."
"Well, do you have any homework?"
"Yeah, a little."
You're not the only parent who feels like talking to your child or teen after school is a bit like pulling teeth. And while you don't want him or her to feel like they're in an interrogation, of course you want to know more about their school life, friendships, and if they're having a hard time. Francesca Varallo Sims, PsyD, director of education and training at Baptist and Wolfson Children's Behavioral Health, provided tips to get your kids to share more, and why it matters that they do.
Why are kids so darn vague?
It's frustrating to feel like your kids — whether they're grade-schoolers or teenagers — just don't have anything to say. Dr. Varallo Sims recommended trying to talk to your kids about their day when they're ready, not the moment they jump into the backseat or walk through the front door.
"Think about when your child normally unwinds. You want to select times when they have the ability to be engaged," she said. "Depending on your family schedule, better times to talk may be while cooking together, taking a walk, playing a card game, during or after a meal, or on the weekend."
Dr. Varallo Sims added it's helpful to make sure you're in a place where your child feels comfortable opening up, and try not to hound him or her with questions. Focus on topics that are positive and conversational instead of jumping right into how that fight with their best friend is going.
How can you tell if your kiddo needs some time to unwind before you dive in? Slouching, a furrowed brow, or other signs of fatigue can signal parents to wait.
"Instead, this might be an opportunity to offer support based on your observations and suggest another talk when they've had time to decompress," she said.
Making the effort is important.
While it can feel like an impossible task at times, it matters that you learn about what's really going on in your child's life.
"Even asking a couple more questions after a one-word reply can provide parents with much-needed insight into their child's perceptions, emotions, challenges and successes," said Dr. Varallo Sims. "Gathering details helps us be informed, provide reinforcement for positive events, make adjustments if needed, and overall, be more present for them day to day. Starting these conversations and checking in regularly helps your child feel connected and supported, no matter the challenges or celebrations they encounter."
Simple questions can spark conversations.
Wolfson Children's On Our Sleeves has a list of conversation starters with questions you can use to keep discussion going with your kiddo. Dr. Varallo Sims recommended the questions below as good replacements for "How was your day?" when your child gets home from school:
What was the best thing that happened today?
Tell me something you learned today.
What projects are you working on in science class?
What didn't go as planned today? How did you feel when that happened?
What is the best thing about school? How about some things you'd like to change?
What are your top two favorite classes? Why those?
Which courses do you like the least? How come?
What sports or activities are you covering in gym? Which ones do you wish they would include?
---
On Our Sleeves is a national movement dedicated to preventing crises by promoting children's mental wellness. Wolfson Children's On Our Sleeves has free resources for kids and teens, parents, teachers, and health professionals to start important conversations and foster mental health. Parents and kids can also reach immediate support via the Wolfson Children's 24/7 Kids & Teens Helpline at 904.202.7900 or by texting LIFE to 741741.