Pregnant during COVID-19
With our due date just three weeks away, our baby girl will arrive in the middle of a pandemic.
April 24, 2020.
For nearly nine months now, my husband and I have been counting down to that Friday in late April, the day (or so) we will finally see the sweet face we've only glimpsed on ultrasounds. We've agonized over paint colors (we went with lavender), chosen a theme for the nursery (secret garden), and tried to plan everything we could before new parenthood knocked us off our feet.
We couldn't plan for COVID-19.
My husband and I both work in health care: I'm in the marketing and communications department at Baptist Health and he is a physician at another local hospital. I remember our conversations in the early days of COVID-19, both of us comparing it to the flu. We were wrong.
In a matter of weeks, I have watched the world change around me, trying to adjust my plans and expectations along the way.
Finding light
I'd be lying if I said I kept a smile on my face this entire time. When my parents, who are both over the age of 65 and live in hard-hit Montgomery County, Pennsylvania, told me they likely wouldn't be able to come down for the birth, I cried. A lot. I cried even more when they explained that it's because they're afraid of getting us sick - my mom is a nurse who still reports to the hospital - not the other way around.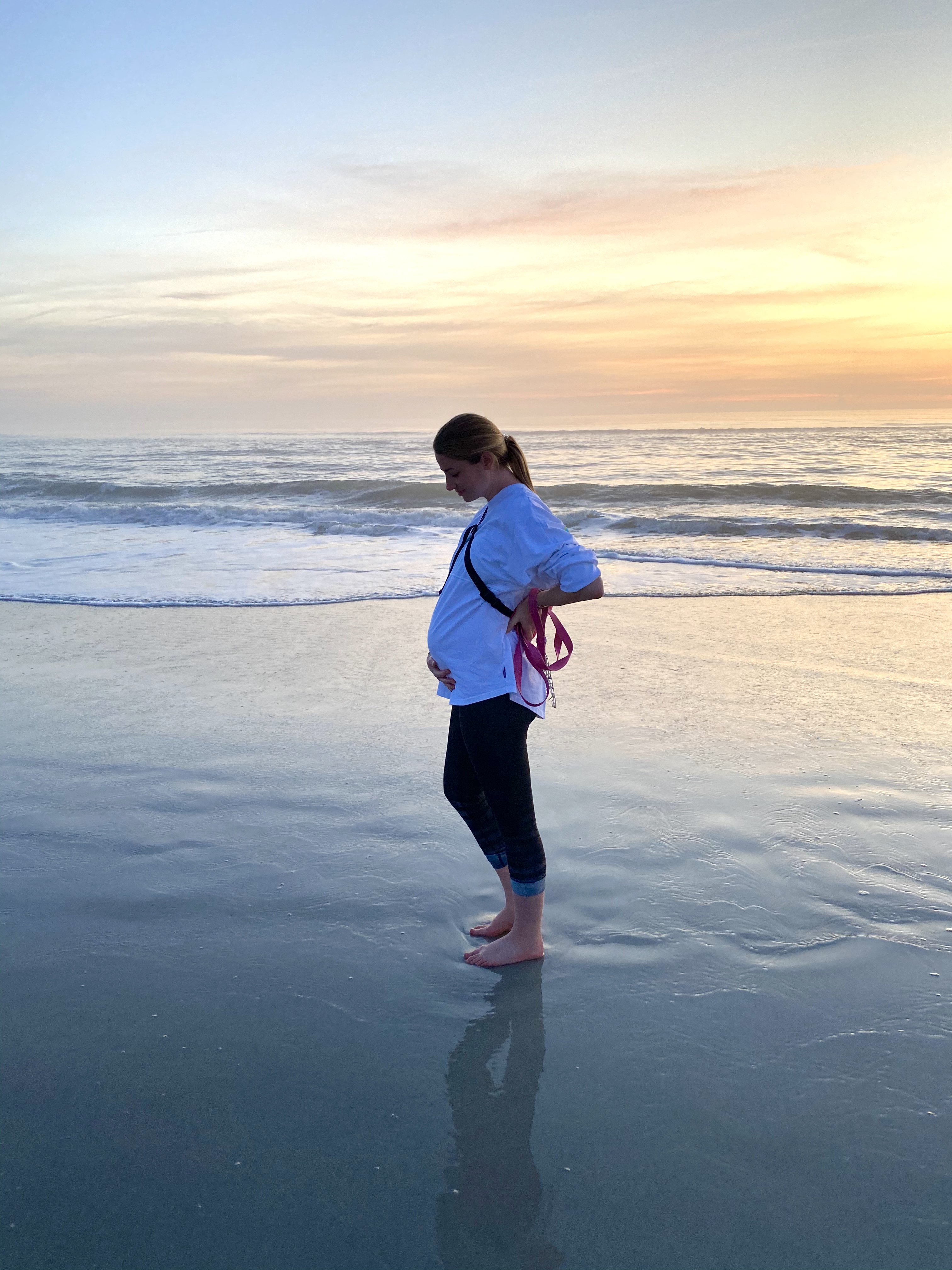 I cried again when I packed a bag for the hospital, full of the softest and cutest newborn clothes I've ever seen, knowing my mom had meticulously chosen them and she wouldn't get to see them on her first grandchild in person.
But I know this is right. This is what we need to do for the greater good, to prevent this horrid virus from spreading further and putting more peoples' lives at stake.
So I choose to find the bright spots.
Before the COVID craziness hit, we celebrated our baby girl with not one, but three showers thrown by family, friends and coworkers. Many other pregnant women I know did not have that chance, and have had to cancel or postpone celebrations. We are so lucky.
Baptist Health allows Labor and Delivery patients to have one spouse/partner or other designated person in the room for the delivery. I won't have to be alone. We are so lucky.
Every time I feel a tiny foot (or is it an elbow?) jab me in my stomach, I am reminded that I am able to carry a baby. We are so lucky.
Ready or not, here she comes
Truthfully, I'm a little scared, but I think we all are. What I've come to embrace is that I have to take things one day at a time. But that's parenthood, too, right? Maybe this has been the best practice of all!
In the next three weeks, I'll spend time YouTube-ing breathing techniques, reading "What to Expect," and counting down to what will undoubtedly be, no matter what, the best day of my life.
And to my fellow moms-to-be: stay strong mamas; we've got this.
Although Baptist Health has had to cancel in-person Maternity and New Baby Classes for the time being, we have set up free, virtual classes to help parents-to-be get ready for the big day. Visit baptistjax.com/classes for more information.
---
At Baptist Health, we want to help keep you and your family informed about COVID-19. We're coordinating with the health department and following CDC guidelines to ensure the health and safety of our community. For more information, visit baptistjax.com/covid19.