'Slip, Slop, Slap, Seek, Slide'
Your ultimate skin protection guide in 5 easy steps.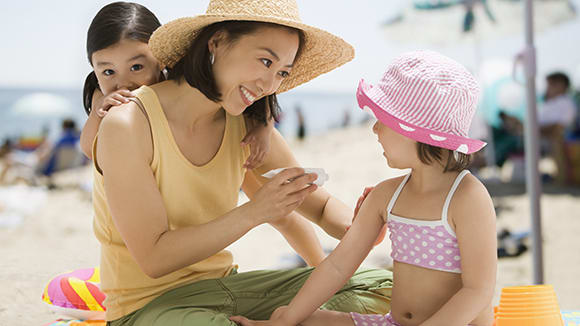 Who's ready for some fun in the sun?
I'm sure, just like me, you're ready to put away your boots and sweaters and take out your swimsuits and shorts. Summertime here in Florida is full of sun, sand and the ocean — but it's also when we are outside the most.
To make sure we keep the fun, let's talk about how to stay safe in the sun.
According to the Centers for Disease Control and Prevention (CDC), more than 76,000 people in the U.S. were diagnosed with melanomas of the skin in 2014, and 9,000 of those died from this preventable cancer. This makes skin cancer the most common form of cancer in the United States, with melanoma being the deadliest.
Surprisingly, skin damages from the sun's harmful rays in as little as 15 minutes of unprotected exposure. So, consider a two-hour beach trip. If you don't apply sunscreen, you can get eight times the damage! But, with the proper skin protection, you can have minimal to no skin damage in these same two hours.
Which would you choose?
Sun exposure is actually the most preventable risk factor for skin cancer. This is a good thing, because it means that we can control how much sun we actually get — and then, in turn, reduce our risk for skin cancer.
With all this talk about how the sun can hurt your skin, I'm sure you are thinking: "what are some ways to protect my skin?"
The first thing that comes to mind for many of us is to get a base tan. Sorry to burst your bubble, but there's no other way to say it—there is no such thing as a "base tan." Tanned skin is damaged skin. Any change in the color of your skin after time outside—whether sunburn or suntan—indicates damage from UV rays. This also means that even if you have darker skin, you still need to protect it.
If this hasn't convinced you, just know that damage from the sun is the number one cause of premature aging of the skin. Follow this simple guide from the CDC to not only protect your skin, but also keep up its youthful appearance!
Slip, Slop, Slap, Seek, Slide
Slip on some protective clothing. When I say protective clothing, I mean loose-fitting, close weave clothing that covers as much skin as possible.
Slop on SPF 30-50+ broad spectrum sunscreen 30 minutes before going outside and then every two hours.
Slap on a wide brimmed hat to protect your face, neck, nose, and ears.
Seek shade whenever possible, especially between 10 am and 4 pm, when UV rays are strongest.
Slide on some sunglasses. Your eyes can also be damaged by the sun.
Being safe doesn't have to be boring. I challenge you to follow this guide and make your skin protection stylish too.
It doesn't matter who you are, what age you are or what skin type you have, protecting your skin from the sun is important for everyone. So, remember to Slip, Slop, Slap, Seek and Slide!
Jean Newell, BSH, CHES, is a Baptist Health Wellness Coach at the Ponte Vedra Y Healthy Living Center. Jean received her degree in Health Science and Health Education from the University of North Florida and is currently working on her Master of Public Health degree. She has a 4-month-old son, Coleman, and her favorite hobby is exploring Florida's unique state parks.