Vax advice
The dos and don'ts of the COVID-19 vaccine.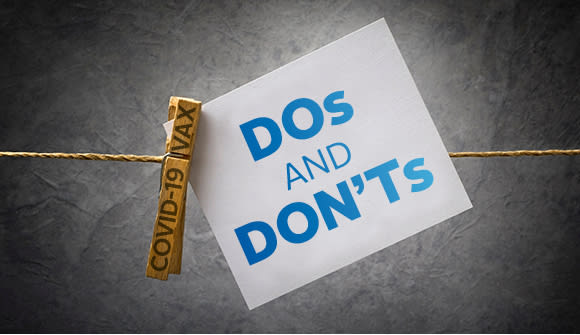 As COVID-19 vaccines become more accessible, many people have questions about what they should (or shouldn't) do before and after getting the shot.
Theodore Glasser, MD, an internist at Baptist Medical Center Jacksonville, shared some helpful tips to keep in mind.
Do: Accept whichever vaccine is offered to you first.
"Some people might try to 'vaccine shop' because they prefer one vaccine over another or believe one is superior to the rest," Dr. Glasser explained. "But that is simply not the case. All of the available COVID-19 vaccines have had to meet the same standards for safety and efficacy set by the Food & Drug Administration (FDA) and are helping us put a stop to the pandemic."
Don't: Take over-the-counter (OTC) pain-relievers immediately before getting the vaccine.
The Centers for Disease Control and Prevention (CDC) cautions against this.
"The majority of people tolerate the vaccine really well and don't need to take anything for resulting symptoms, so it's best to wait and see how your body responds," said Dr. Glasser. "If you do experience an uncomfortable reaction like fever, muscle aches or general fatigue, then it's fine to treat your symptoms with ibuprofen or acetaminophen as they arise."
Do: Carefully consider which arm you choose to receive the injection.
Either arm will work, so it's entirely up to personal preference. A common side effect of the vaccine is muscle soreness at the injection site, so many people choose their non-dominant arm. Others base their arm selection on which side they sleep on at night. It's also OK to switch arms for the second dose of the Pfizer or Moderna vaccines.
Don't: Ignore your health history or allergies.
Individuals who have existing health conditions, allergies or take prescription medications should consult their primary care physician to make sure it is safe to get the vaccine. They'll also want to notify their vaccine provider of any allergies prior to getting the shot so the vaccine team is aware and can safely monitor for any immediate reactions.
Do: Hydrate before and after.
"Make sure to drink plenty of water ahead of your vaccine appointment, as well as for a day or two after," said Dr. Glasser. "This can help strengthen your immune system and alleviate potential side effects of the vaccine."
Don't: Overexert yourself.
While no specific recommendations exist about exercising after getting the vaccine, Dr. Glasser recommends giving your body a day or two to rest.
Do: Limit alcohol consumption after receiving the vaccine.
There is no official recommendation from the CDC about drinking alcohol after getting the vaccine, but most health officials recommend waiting a day or two before having a glass of wine or pint of beer as alcohol can intensify commonly reported vaccine side effects.
Don't: Get other vaccines at the same time.
The CDC recommends waiting at least 14 days after receiving the COVID-19 vaccine to get any other type of vaccination.
"That's because you want to give your body enough time to build up as much of an immune response to the COVID-19 vaccine as possible," said Dr. Glasser. "If you get a second type of vaccine within that timeframe, you're splitting up your body's immune machinery and trying to build two different responses at the same time. There also isn't enough information available right now to know how the COVID-19 vaccine might interact with other vaccines."
Do: Continue wearing a mask and practicing social distancing after you get the vaccine, when appropriate.
You're not considered fully vaccinated against COVID-19 until 14 days after your second shot of the Pfizer and Moderna vaccines, or two weeks after getting the Johnson & Johnson vaccine. After that, be sure to stay up-to-date on the latest CDC masking recommendations for vaccinated individuals.
---
At Baptist Health, we want to help keep our community informed about COVID-19. For more information about COVID-19 vaccines, visit baptistjax.com/covid19.