'They brought my husband back to life'
Quick reaction gives local man a second chance.
Juice Staff Published: February 24, 2020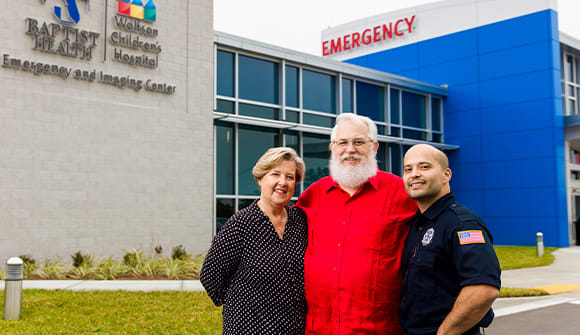 It was about 2 a.m. when Jim Markert, 58, realized something wasn't quite right.
"I had this uneasy feeling and pain under my arms and chest," Markert said. Like many of us, he Googled his symptoms. The result: possible heart attack.
"I knew I was having a heart attack," he said. "I woke my wife, Timmi, and told her we had to get to an ER right now." She rushed him to Baptist Health's new Emergency Center at Oakleaf, only seven miles from their home in Middleburg.
"Jim was still walking and talking when we got in the truck, but as I started driving, he began making strange sounds and turning blue," said Mrs. Markert. "He slumped over toward me and I tried to push him back. I was going about 90 mph. I started beating on his chest, telling him not to leave me."
The right place at the right time
Luis Vargas, a security guard for the Baptist/Wolfson Children's Emergency Center at Oakleaf will never forget what happened next. "All of a sudden, a woman runs in frantically, yelling for help, saying her husband is dying," he said. "I ran out and saw a man slumped over motionless. I knew I had to get him out."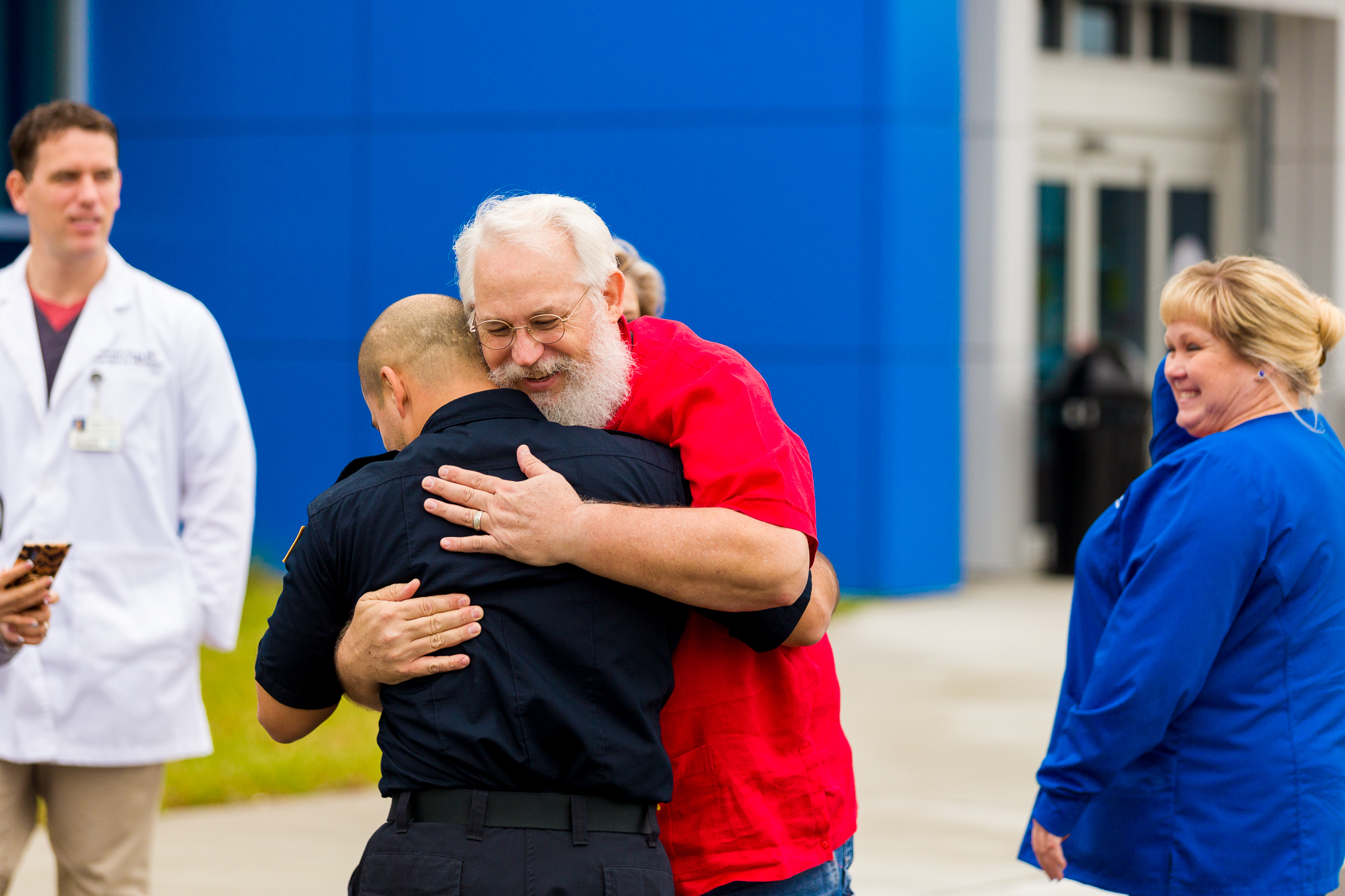 Vargas worked with Mrs. Markert to get Jim safely out of the truck. "He's much larger than I am. I got my hands around his chest and his wife and I slid him against the truck to get him out," Vargas said. Once Markert was on the ground, Vargas, who is certified in CPR, started chest compressions.
"I was shaking. I wasn't coherent," said Mrs. Markert. "The security guard was so gentle and kind and helped me remain calm while we got Jim out of the truck."
Seconds later, the Oakleaf medical team – emergency nurses Jill Jones, Yelitza Borges-Figueroa and Joyce Nieves, along with Suzie Baxter, a respiratory therapist, and emergency physician Joseph King, MD – ran out to help lift Markert onto a stretcher. Borges-Figueroa continued chest compressions while Markert was rushed into an exam room.
"The nurse actually had to get on top of my husband on the stretcher to continue CPR while he was being wheeled into the exam room," remembered Mrs. Markert.
The medical team worked to stabilize Markert, who was experiencing "ventricular fibrillation," a condition in which the chambers of the heart quiver rather than pump blood. "Jim was essentially dead," said Dr. King. "We had to shock his heart several times to restore a normal rhythm."
Once Markert was stable enough to be transported, he was rushed by ambulance to the heart catheterization lab at Baptist Heart Hospital. Cardiologist David Hassel, MD, with Baptist Heart Specialists determined Markert had a 99% blockage in the left anterior descending artery that carries fresh blood to the heart so it can pump properly.
Dr. Hassel performed a heart catheterization and placed a stent in the artery to restore blood flow. "This type of heart attack is called a 'widow maker' because blockage to the main heart artery is usually fatal," he said. "The quick response – from the security guard's initial chest compressions to the amazing work of the entire medical team – saved this man's life," Dr. Hassel said.
A new outlook
Looking back on what he's been through, Markert said, "All the right people with all the right skills were there at the right time. I am so grateful to the team who cared for me," he said. "I would not have survived without them."
Understandably, Markert's outlook on life is different now. "I thank God for my second chance. My work for Him isn't done yet," he said.
Markert was able to return home five days after having a heart attack. He and his wife are already making healthy changes, including eating a plant-based diet. The Cardiac Rehabilitation program at Baptist Jacksonville is helping Markert regain his physical strength.
Baptist Health has a total of six emergency centers in the Northeast Florida area, which are designed to provide life-saving care in situations like Markert's. "My wife and I noticed the Oakleaf ER being built every time we'd drive by," said Markert.
"I'm sure glad they got that place built in time."
Close X