Breathing life
Caregiver spotlight: 5 things to know about respiratory therapists.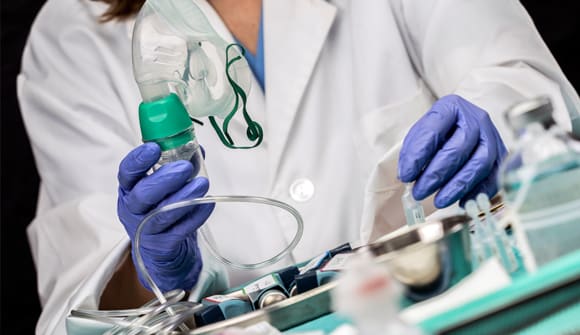 The human body is an amazing machine, full of complex systems that automatically perform crucial functions without a person ever even noticing. For example, how many breaths have you taken since you started reading this article? If you don't know, your body is probably working as it should be.
There are few things scarier than being unable to breathe, whether from illness, injury or a chronic condition like asthma. In those moments of uncertainty, whether in a hospital or other setting, respiratory therapists are the first line of defense to ensure a patient's body gets the oxygen it needs.
That care became more important than ever during the COVID-19 pandemic.
"We've come through a very tough year," said Tammy Baldwyn, RRT, a registered respiratory therapist and Baptist Health pulmonary care supervisor. "There were some dark times, but we were able to make it through thanks to the incredible team we have."
Ashley Crumpler, RRT, lead pediatric registered respiratory therapist with Wolfson Children's Hospital, reflected: "We really all came together and lifted each other up. We were fortunate that the pediatric side wasn't hit as hard as the adult side, but we knew how hard they were working so we tried to help out however we could."
If you haven't heard about this profession before, you're not alone. Here are 5 things to know about respiratory therapists:
1. They manage life-saving critical care equipment.
"We are the ones in the intensive care unit (ICU) who manage the ventilators, which breathe for the patients when they are unable to do so for themselves," said Annamarie Perez, RRT, lead respiratory therapist at Baptist Medical Center Beaches.
Brittany Myers, RRT, a registered respiratory therapist with Baptist Beaches, added, "We're also the ones in the Emergency Room who give medication to help you breathe when you have an asthma attack, drug overdose or even following an injury in a car accident that affects your breathing."
2. Care begins in the air and on the ground.
Respiratory therapists play a vital role in critical care transport in the greater Jacksonville area and from around the region. Wolfson Children's Kids Kare helicopter and mobile ICUs are always staffed with a pediatric critical care respiratory therapist, in addition to a pediatric critical care nurse. This team begins providing immediate life-saving care during transport to stabilize and treat children before they even reach the hospital.
3. You may see one in your delivery room.
Since every week counts when it comes to an unborn baby's development, a respiratory therapist is often present in the delivery room when a baby is born at less than 35 weeks, or if mom and/or baby are high-risk.
"As soon as the baby is born, we assess him or her and determine whether he or she needs any respiratory support," Crumpler said.
4. They play a vital role in neonatal care.
Since premature babies are often born with underdeveloped lungs, respiratory therapists provide treatment to ensure the most vulnerable babies in the Wolfson Children's Neonatal Intensive Care Unit (NICU) downtown and at Baptist Medical Center South are getting enough oxygen. This could be inserting a breathing tube or delivering surfactant, a treatment that helps the littlest lungs get up to full function.
5. They make a difference every day.
Respiratory therapists often see families during one of the most difficult and terrifying times of their lives. With that responsibility comes an extra layer of care.
"At any moment this could be one of us, or one of our family members in that bed," Baldwyn said. "We have the opportunity to make a difference every time we walk into a room."
---
Respiratory therapists provide care for patients with a wide range of conditions, injuries and illnesses. If someone is struggling to breathe, take him or her to the nearest emergency department or call 911. Click here for a list of Baptist Health and Wolfson Children's ER locations and wait times. To read more stories about pulmonary health and breathing, click here.