Benefits to both
Pediatrician organization recommends breastfeeding for two years or more.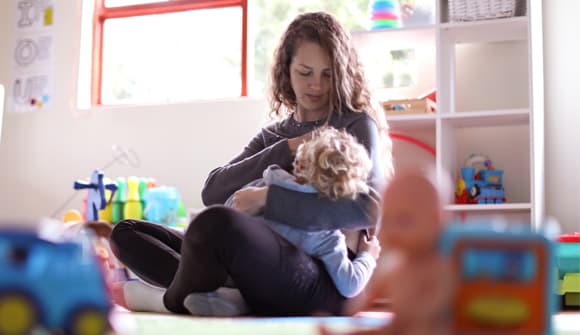 Breastfeeding has long been boasted as having countless benefits that give babies the best beginnings. Now, researchers believe continuing into the toddler years boosts health for both mom and baby.
New recommendations from the American Academy of Pediatrics (AAP) state infants should be exclusively breastfed for their first six months and continue until at least age 2. Solid foods are recommended as a complementary addition after 6 months, becoming baby's primary form of nutrients at 1 year.
Why age 2, you may ask? Kathryn Snowden, RN, IBCLC, a Wolfson Children's Hospital NICU nurse and Baptist Health certified lactation consultant, explained this update extends the previous recommendations from age 1 to 2 to align with global guidelines.
"The World Health Organization (WHO) has been recommending this same standard of longer-term breastfeeding for a while now," she said.
Lasting effects
This change acknowledges the range of advantages continued breastfeeding offers for both mother and baby, and comes with a call to increase support for those who choose to breastfeed.
"In the 1970s, we had around 20% of people leaving the hospital breastfeeding. Now, we have upwards of 80%," Snowden said.
Human milk is widely known to provide infants with needed nutrients as well as protective antibodies to build their immune systems.
According to Snowden, a breastfeeding mother's body actually analyzes the changing health needs of the baby and offers targeted immune support in later feeds. This can range from protection against simple environmental allergens, like pet dander, to antibodies to fight more complex illnesses, such as COVID-19.
"In real-time, you just have this immune powerhouse," she said.
It also helps lower the risk of gastrointestinal bugs and sudden infant death syndrome (SIDS), as well as of obesity later in life.
Mothers, too, experience major health advantages including a decreased risk of breast and ovarian cancers and type 2 diabetes.
Staying the course
It's important to acknowledge that both breast and chestfeeding – feeding an infant human milk from a person's chest – can come with challenges, too, particularly when striving to do so longterm. Changes to look out for that can affect milk supply include:
Stress. Rising levels of cortisol, the stress hormone, work against the body's production of oxytocin, which is critical in releasing milk. This makes it harder to not only produce but maintain the milk supply.
Sleep. When introducing solid foods at the 6-month mark, baby typically feels fuller after feedings and sleeps sounder and longer through the night. This may sound like a win for parents, but skipping those nightly feeding/pumping sessions will reduce how much milk the body thinks it needs to produce. "I tell everyone, 'I want you breastfeeding or pumping through five or six months around 2 to 4 am time to protect your supply,'" Snowden said.
Schedules. Similar to sleep changes, veering off the body's established feeding/pumping schedule at any time of day can set a new standard for production. This often occurs when returning to work and facing pressures to limit pumping breaks. "I recommend having a really good written-out plan for how you're going to incorporate lactation into your work, and having your employer sign onto that," she said. "By establishing good, healthy boundaries early on, it's never a question."
Knowledge is power
Of course, not everyone breast or chest feeds, or may want to do so long-term. It all comes down to personal choice and what's best for each individual baby!
"Find the balance that works for you with your body and your baby," Snowden said.
To set every mother up for success, Snowden's greatest piece of advice is to meet with a lactation consultant within four to seven days of being discharged from the hospital for needed education and support. At Baptist Health hospitals, lactation consultants visit new mothers to help guide them through the first day(s) with baby. These specially trained experts assist with far more than just breastfeeding. They can help with choosing the right flange size, bottle shape or feeding position, as well as safely suppressing milk supply for those who are not able or do not wish to breastfeed.
Baptist Health also offers a virtual Breastfeeding 101 course to teach parents-to-be the most important concepts needed to successfully breastfeed.
"No matter what way you decide to feed your baby, we can make sure you're on the right track," Snowden said. "Everyone is looking for a book that tells you how to raise a baby, and it just doesn't exist. But with a good lactation consultant, you can feel supported in your feeding choices and always have a resource to call."
---
To learn more about Labor & Delivery services provided at Baptist Health, visit babtistjax.com/baby.