Nursing necessities
The best tools for breastfeeding success.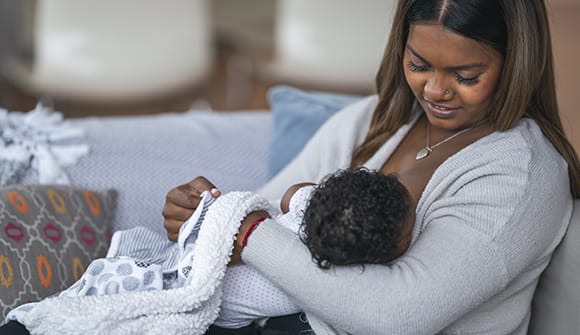 Breastfeeding is a natural process, but it doesn't come naturally to every mother and baby. Some may have the ideal feeding experience from day one, while others have to work through issues like difficulty getting baby to latch, sore nipples, clogged ducts and more. When those problems arise, it's normal to surf the internet to try to find answers, browsing the many products you can have shipped right to your door.
It's also understandable why women may look for ways to make breastfeeding easier, more comfortable, or more efficient: A breastfeeding mom spends an estimated 1,800 hours breastfeeding in a year. By comparison, a full-time job with three weeks' vacation is 1,960 hours of work. So, yeah, if a product promises to make her second job easier, why not give it a try?
While many accessories and products can help with breastfeeding, experts say knowledge is the most important tool for breastfeeding success.
"Being prepared to meet the challenges of breastfeeding is my biggest piece of advice," said Lisa Hays, RN, IBCLC, a lactation consultant at Baptist Medical Center South. She advised mothers-to-be to take a breastfeeding class and to participate in a support group. She also recommended talking with your friends who are currently breastfeeding or have in the past about "their experience, challenges and the joy that can come with successful breastfeeding."
Essential breastfeeding tools for moms
There are, however, a few things moms will need for their breastfeeding journeys. You don't need many items, but you may benefit from a few high-quality purchases. Here are a few essential breastfeeding supplies you might want to buy:
Electric breast pump. Look for an electric pump that can be used on both sides at once. Hays noted this is particularly helpful for mothers returning to work so they can build up a good milk stash.

Hand breast pump. Some mothers let down milk easier with a hand pump, so it's worth a try if the electric pump isn't working for you. They also help decrease breast engorgement and many moms use them in the car and in the shower. "They also come in handy when the electricity goes out," she said.

Nursing bra. Invest in a comfortable, supportive bra that can be used for pumping or nursing.

Nursing pillow. A soft, squishy pillow you can mold to whatever shape you need will help support your baby while breastfeeding. Though some are specially designed for nursing, one of your regular old favorites will do.

Nursing pads. These disposable or wash-and-reuse pads help to absorb leakage (and save your bras).

Nipple cream. This cream can be used to help reduce friction caused when using your breast pump, and it can help to ease pain or discomfort from breastfeeding.
Breastfeeding is thirsty work, so Hays recommended keeping a large bottle of water handy, especially at night, so you don't need to trek to the kitchen to keep your fluids up. You may also want to keep a snack nearby for some extra calories. 
Find a breastfeeding support group
Hays, along with other lactation consultants, said getting lots of support during breastfeeding – from your partner, family, friends or a support group – is also a huge help. Baptist Health offers a free, in-person breastfeeding support group facilitated by either a lactation counselor or a lactation consultant who can help new moms reach their breastfeeding goals, whether they want to breastfeed, exclusively pump or opt for a combination of breast- and formula-feeding.
"It's not only about breastfeeding but also about moms making friends and sharing a bond," said Hays. Counselors can provide new moms with information on additional lactation resources.
Of course, not everyone breastfeeds their baby, and that's OK too! Lactation consultants can offer support and reassurance to those who are unable or choose not to breastfeed. And Baptist Health also offers a support group for all new moms regardless of whether they breastfeed.
If you or your little one is having trouble with bottles, formula or anything else about feeding, be sure to call your pediatrician. Together, you can work through any mealtime issues you may be having.
---
Prepare for your breastfeeding journey
Planning to try breastfeeding? You can get in-depth education straight from the experts during Baptist Health's Breastfeeding 101 class.