Health myths
It's time to let go of these 4 outdated ideas.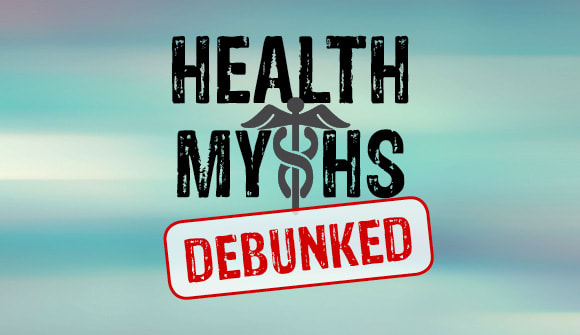 Medicine is always changing, evolving and advancing. But as scientists discover new information, long-held beliefs are sometimes debunked. For example, people used to believe children could outgrow asthma with age, but as any adult patient with asthma knows, that's not always true.
Debunked health myths
"Some of our firmly held beliefs or opinions about health are the result of what we're told by family members, friends or even physicians," said Marla Trapp, MD, a family physician with Baptist Primary Care. "Today, patients can research or fact-check medical conditions and treatments on their own, which helps to debunk some of the misleading information out there."
Dr. Trapp is asked about many of the same health care myths by her own patients. She debunked four of the most common.
Myth #1: Vaccines are risky.
"One question I get a lot from patients is, 'Can the flu vaccine cause you to get the flu?'" Dr. Trapp said. "I try to dispel this fear and assure them that the flu vaccine is not a live virus and does not cause the flu. The notion of vaccines being dangerous came from the myth that they can cause autism. We now have data that disprove this theory."
Dr. Trapp explained that some patients experience symptoms similar to flu, like fatigue, following vaccination. This isn't actually the illness, but rather the body's immune response to getting the injection.
Myth #2: You can detoxify your body with a diet or tea.
Do the Kardashians swear by them? Yes. But physicians say detox teas and diets aren't going to help much.
"Our bodies can naturally get rid of toxins. My advice to patients who want to detox is to limit the processed foods they're eating and replace them with whole foods," Dr. Trapp explained. "There is no scientific evidence that detoxifying diets or teas have been proven to actually flush toxins out of the body."
In fact, check with your physician before trying any detox teas or supplements at home to be safe.
"For patients with chronic conditions, the ingredients of those diets or teas may even be harmful to them," Dr. Trapp cautioned.
Myth #3: Green mucus means a bacterial infection; clear mucus means a virus.
"The production of mucus is our immune system's way of trying to fight off viral or bacterial infections," explained Dr. Trapp. "It can be clear with viral, green with bacterial, or vice versa. Studies have shown that green mucus is slightly more common with bacterial infections but it's not always a sure sign."
Myth #4: Cold weather makes you sick.
Of course, it's important (and more comfortable) to bundle up when there's a chill in the air. But forgetting your hat or scarf won't cause you to come down with a cold that evening.
"When it comes to cold weather, certain viruses are more widespread in a particular area than at other times. When it's cold outside, it's easy to assume it's the cold weather making you sick when in reality, it's more likely that you were exposed to someone with a virus," Dr. Trapp said.
How to fact-check your health information
Those who are looking for the most accurate health information should make sure they're using reliable sources that are updated often.
"There are a number of websites out there providing credible health information, including several sponsored by federal government agencies like the Centers for Disease Control and Protection and the National Institutes of Health," said Dr. Trapp. "Patients can then follow up with their primary care physician to confirm what they've read about is a recommended practice."
Ask your doctor
According to Dr. Trapp, the safest person to ask for accurate health information – even if you believe you know the answer – is your doctor.
"As physicians, we try to stay up to date with the latest advancements in medicine and new therapies in order to treat and inform patients about different conditions. The medical field is constantly changing and evolving, with new medications and treatments being introduced at a rapid pace. How we diagnose and treat certain conditions can change over time."
---
Finding a primary care provider
If you need a primary care physician to help you navigate through health facts and myths, call 904.202.4YOU or fill out the appointment request form.