Sick from the heat
Know the differences between exhaustion and stroke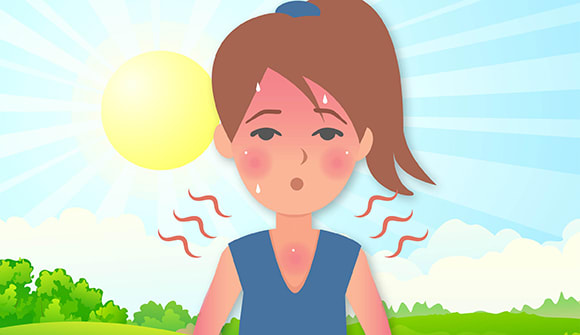 Planning your next big cookout or outdoor gathering? Make sure heat-related illnesses don't crash your get-together and put the kibosh on the kabobs.
Floridians enjoy all the state has to offer, which includes our greatest asset: the sun. But too much of it can be an invitation for heat exhaustion or heatstroke, which can land you in the ER.
"There are three factors that create the perfect storm for heat exhaustion and heatstroke," explained Robert R. Sefcik, ATC, executive director of the Jacksonville Sports Medicine Program (JSMP), a volunteer-based nonprofit dedicated to youth sports injury awareness, prevention and advocacy.
Recognizing the symptoms and knowing how to respond to heat-related illnesses are large parts of Sefcik's line of work.
"Those factors are high temperature, humid air and radiant heat from direct sunlight," he said.
That describes our weather for the majority of the year.
Spot the signs
Nothing spoils a party like an emergency, so be sure you know the symptoms of heat-related illnesses, particularly in children, the elderly, or guests visiting from another state or climate who haven't had time to adjust.
"Find a way to cool the person down first, then trust your instincts. If you're feeling uncomfortable about the person's recovery or something just doesn't seem right, call for help," said Sefcik.
Here are the differences between heat exhaustion, which is a serious condition, and heatstroke, which is an emergency.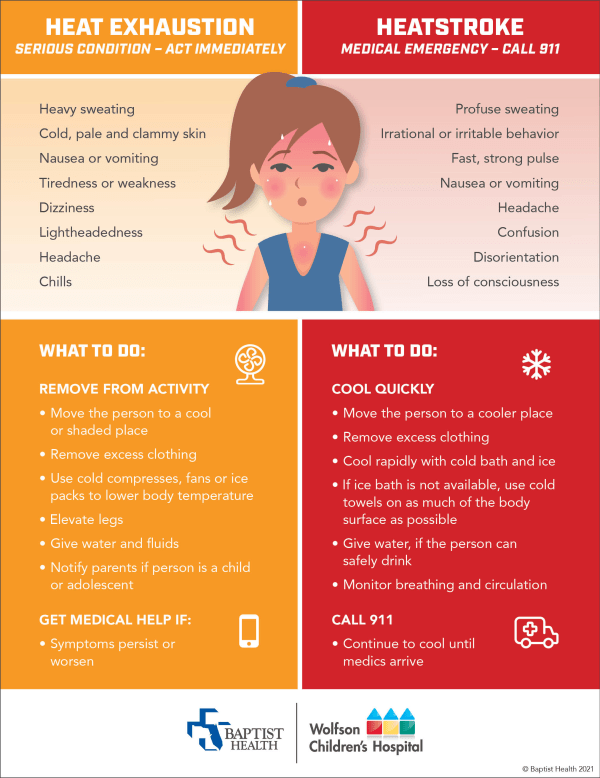 "Anyone who has collapsed from an activity in the heat should be evaluated by a health care provider immediately," Sefcik said. "Even if the person recovers, it's smart to contact his or her doctor or pediatrician for a follow-up appointment. Consider emergency care if symptoms persist."
Stay chill
The good news is, heat related-illnesses are completely preventable.
The best defense is to stay hydrated. Get in the habit of drinking water, even if you don't feel thirsty. Replace electrolytes lost through sweating by incorporating fruits, veggies and nuts into your diet. Plan your activities early in the day or later in the evening when the sun is less intense and take rest breaks in a cool place if your body is telling you it needs some time to chill and recover.
---
We hope your summer is emergency-free, but if you need help right away, Baptist Health has emergency centers located throughout Northeast Florida to provide care when you need it most. Click here for locations and current wait times. If someone is having a life-threatening emergency, call 911 immediately.