'Controlled heart attack'
Rare procedure uses alcohol to destroy tissue, improve heart function.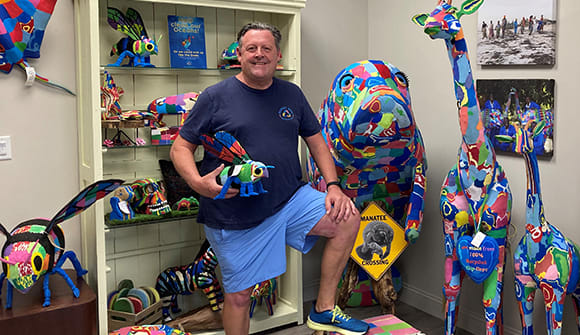 It's not every day you go to the heart doctor to find a solution for your medical issue and he purposely gives you a heart attack to fix the problem. For David Smith, 55, that's exactly what happened.
As a child, Smith had a very active life. He was a swimmer, played soccer and ran. When he began having shortness of breath and passed out a couple of times while exercising, he attributed the problem to asthma. As he got older, he began giving up sports, most exercise and many family activities as they all caused him to lose his breath. His one remaining goal was to walk 10,000 steps a day.
"It took me forever to do it each day," Smith said. "Sometimes it would be late at night before I reached my goal."
In addition, Smith was feeling left behind when going out with his wife and daughter. "They were always ahead of me as I slowly trailed behind. It hit me emotionally."
After passing out on Thanksgiving, he was rushed to Baptist Medical Center Beaches. There, a cardiologist suggested he see Siddharth Wayangankar, MD, a Baptist Heart Specialists interventional cardiologist with expertise in structural heart disease, to see if these episodes had anything to do with his heart.
Born this way
An echocardiogram quickly showed the problem.
"Mr. Smith had hypertrophic cardiomyopathy," explained Dr. Wayangankar. "This is a congenital heart disease – meaning he was born with it – where the septum of the heart that separates the ventricles is thick and grows to extreme proportions. This obstructs the blood outflow from the heart, which can lead to a lot of symptoms of heart failure, including shortness of breath and passing out."
Open-heart surgery is typically required to repair this condition, but Smith was not keen on the idea. So, Dr. Wayangankar suggested alcohol septal ablation, a minimally invasive procedure in which the doctor sends a catheter through the patient's wrist or groin to the artery that supplies the thickened muscle within the heart. The doctor then injects 100% alcohol into the problematic area, which destroys the artery, but also kills the cells forming the thickened heart muscle. Over the next 8-12 weeks, the heart muscle recedes, thereby relieving the outflow obstruction in the ventricle.
"This is basically a controlled heart attack," explained Dr. Wayangankar. "It seems counterintuitive to our typical mission in interventional cardiology, where we try to save the heart muscle. With alcohol septal ablation, we destroy it."
Back to life
One to three months after the procedure, the scar tissue that remains is thinner and blood flow is restored. However, the patient may feel better almost immediately.
Smith said, "I remember my first walk in the recovery room: the nurse and I went from one end of the hall to the other and I wasn't out of breath. Four days after I went home, I reached 12,000 steps by 2 pm! A few days later, I ran the bases at a local softball field, something I haven't done in 15 years."
Most importantly, he is now walking with his wife and daughter on their adventures.
"I've got my life back," he said. His next goal is to run a 5K in 2023.
---
Baptist Heart Specialists use cutting-edge approaches to treat patients with a wide range of heart diseases, and is one of the few groups in the country that performs alcohol septal ablation. To schedule an appointment with a heart specialist near you, visit baptistjax.com/heart or call 904.720.0799.