Out of sync
Active outdoorsman's treatment restored his heart rhythm.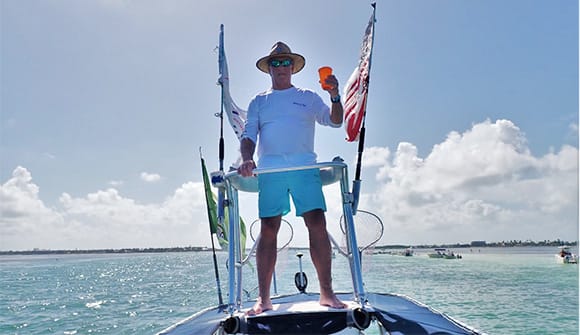 It was 4 am when real estate developer Tom Dodson awoke with a fluttering feeling in his chest. His heart was racing and he couldn't go back to sleep. Dodson, an active outdoorsman who enjoys fishing, hunting and golfing, had never experienced such a sensation and knew something was wrong.
He got out of bed and checked his blood pressure and heart rate. His heart rate was 145 (a normal resting heart rate for an adult is between 60 and 100 beats per minute). Next, he took his blood pressure medication, hoping it would slow his heart rate.
The medication didn't help, so with advice from his cardiologist, Pamela Rama, MD, Dodson went to the Baptist Medical Center Jacksonville Emergency Center. There, Matthew McKillop, MD, medical director of Baptist Health's Electrophysiology Program, evaluated him.
Dr. McKillop diagnosed Dodson with atrial fibrillation (Afib), the most common heart rhythm disorder in the United States. Afib is caused by misfiring electrical signals in the heart, which cause the upper chamber (atria) to spasm rather than fully contract.
Approximately 3 million Americans suffer from Afib, a progressive disease that increases in severity and frequency if left untreated. This serious health disorder can lead to chronic fatigue, congestive heart failure and stroke.
Rhythm restored
Dr. McKillop decided direct electric cardioversion was the best treatment option for Dodson's Afib. During cardioversion, an electrical impulse is sent to the heart to restore proper rhythm while the patient is under anesthesia.
Dodson's procedure was performed at Baptist Heart Hospital, Northeast Florida's only freestanding hospital for heart and vascular care.
"They put me under and used paddles to shock my heart back into rhythm. It was over quickly, and I had no issues at all," Dodson recalled.
A few hours later Dodson went home. He had no symptoms for a couple of weeks, but then his Afib came back, which can happen, despite expert treatment.
"I was really alarmed this time," he said. "I went back to Dr. McKillop and he recommended an ablation."
"Cardioversion is a very effective option for restoring normal heart rhythm," explained Dr. McKillop. "The key, however, is keeping the heart in normal rhythm. That is where procedures like cardiac ablation come into play."
Catheter ablation is a minimally invasive procedure that typically applies radiofrequency energy to eliminate the small areas of heart tissue that are causing Afib. The procedure is designed to restore the heart's normal rhythm on a long-term basis.
An electrophysiologist performs the procedure, guiding catheters to the heart, usually through a vein in the groin or neck. The painless procedure is performed under sedation by an anesthesiologist.
Patients typically go home the next day and return to normal life and activities in one to two weeks.
"We talked about the pros and cons of the ablation and Dr. McKillop assured me he could resolve my Afib," Dodson said. "The procedure went well and now I feel great. Dr. McKillop and his staff are exceptional – I felt very comforted knowing they were taking care of me."
To provide top-notch care for patients like Dodson, Baptist Health has added a new Heart Rhythm Center at Baptist Heart Hospital. The center has a team of medical caregivers specializing in the diagnosis and treatment of all heart rhythm disorders.
"The Heart Rhythm Center is our state-of-the-art facility with the latest technology in cardiac ablation and device implantation. It is a tremendous addition to our community, where we will provide world-class care locally for patients with a heart rhythm disorder," said Dr. McKillop.
Afib away
Ten days later, Dodson was back in the swing of things. He was playing golf, going to his grandson's ball games, and doing all of his normal activities without missing a beat.
He took medication for a few months after the ablation to stabilize his heart rhythm, but now he is off the meds, doing well and back to enjoying the great outdoors.
"What is so great about the Baptist Health team is that they're available 24/7 to take care of you. They're very professional and the follow-up care is great," said Dodson, who continues to see both Dr. McKillop and Dr. Rama. "I feel certain that the treatment they gave me was the best I could receive. There was nowhere else in the country I could have gone to get better care."
---
The Heart Rhythm Center at Baptist Health is the region's only dedicated center focused on the care and treatment of patients with heart rhythm disorders. If you think you may have a heart rhythm disorder, like Afib, call 904.202.AFIB (2342) or visit baptistjax.com/Afib.