A chance to lose
The newest FDA-approved treatments for weight loss, explained.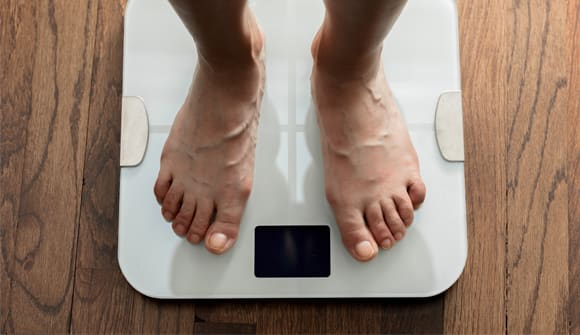 Approximately 74% of Americans today are overweight or obese, according to the Centers for Disease Control and Prevention (CDC), which can increase their risk of heart disease, high blood pressure, type 2 diabetes, stroke and even certain kinds of cancer. And for some people, shedding excess weight isn't as simple as diet and exercise.
In recent years, the FDA approved two injectable drugs for patients who need medication assistance to manage their weight. Casey Bonaquist, DO, is a family physician and chair of Baptist Health's Weight Loss Solutions Committee, which advocates for obesity treatment coverage for patients. She answered some FAQs about the drugs, including who's eligible.
Dr. Bonaquist has no affiliation with any of the drug companies mentioned in this article and receives no compensation for their use.
What are these weight management drugs and how do they work?
"Semaglutide and liraglutide are GLP-1 agonists. That means they keep the chemical GLP-1 around in your body longer. GLP-1 is responsible for sending your brain the signal of feeling full and slowing down the movement of food to help you feel full longer, and it has been found to be deficient in people at higher weights. Semaglutide is an injectable drug you give yourself at home once a week, and liraglutide is injected once daily."
Who are these medications right for?
The main criteria for using these medications is body mass index (BMI), a number determined by a person's weight and height. According to the Centers for Disease Control and Prevention (CDC), a healthy BMI falls between 18.5 and 24.9.
"These injectables are approved for adults with a BMI of 27 or higher who have weight-related medical conditions, like hypertension or type 2 diabetes. The medicines can be used for people who have already had bariatric surgery and meet the BMI criteria. Patients with polycystic ovarian syndrome (PCOS) would also be good candidates since they often have insulin resistance, and this class of medicines was first utilized for patients with diabetes. These patients would still need to meet BMI criteria."
How effective is it?
"In general, these medications show a much higher percentage of weight loss than traditional drugs. Other weight loss medications will have an effectiveness of a 5% to 9% weight reduction, while GLP-1 agonist medications can show a 15% to even 20% loss, which is comparable to gastric bypass."
What should someone who wants to try this treatment know about it?
"Obesity is considered a chronic condition so patients should expect to be on the medicine long term, like they would with a blood pressure medicine. There's not a designated end time for treatment yet; patients could possibly stop injections after two years, but the research is not completed.
"The fact that it's an injectable is also scary for some people. And, there have been supply chain issues for the company; the medication comes in premeasured syringes, which have been hard to find since the pandemic began.
"You should also know that it can make you feel fuller for longer, so you could feel nauseous if you eat a large meal too quickly. You're going to need to tune in to your body and eat mindfully, paying attention to your hunger and fullness cues."
---
Want to address weight-related health concerns? It's important to have a primary care doctor who understands the full picture of your health. Baptist Primary Care specializes in walking patients through every option for improving their well-being. Fill out the appointment request form to get started.
Reference: Weight Loss Outcomes Associated With Semaglutide Treatment for Patients With Overweight or Obesity