Blood pressure pandemic
How COVID-19 caused a hypertension rate hike.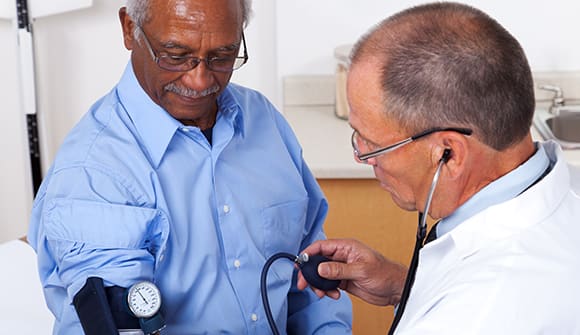 It's probably not a surprise to learn stress levels have been high the past two years. What may shock you is the impact that stress is having on your blood pressure.
In 2019, there were an estimated 116 million Americans, or 50% of the adult population in the U.S., with hypertension, more commonly known as high blood pressure. According to a new study published by the American Heart Association (AHA), the nation's sky-high numbers have soared as people hunkered down during the pandemic. Twenty-five percent of the population's blood pressure changed enough to take them into the next stage of hypertension, whether from none to some or high to higher.
So what happened to make a bad problem worse?
Shreya Ghetiya, MD, a cardiologist with Baptist Heart Specialists, said, "Hypertension is a lifestyle-related disease, and our lifestyles changed during the pandemic."
There were several key factors:
Lockdown laziness: People couldn't go, or didn't feel comfortable going, to the gym. Working from home meant fewer daily steps typically achieved by walking to or around the office. Snacking increased because of easier access to food at all times of the day, compared to more regimented meal breaks. All of this led to weight gain.

Mental minefield: Isolation, bereavement over lost friends or family, joblessness and other major life events led to stress, depression and/or anxiety, which can result in higher blood pressure.

Dodging doctors: Many people avoided going to their physicians for routine checks and screenings the past two years, missing preventive health opportunities. Because of this, blood pressure, cholesterol and other labs weren't checked.
All is not lost
As we begin to emerge from our homes, is there anything we can do to reverse the damage?
Dr. Ghetiya said, "Hypertension is an underrecognized medical disease and is directly linked to multiple cardiac events like heart attacks, strokes and heart failure. Returning back to 'normal' life means going back to, or starting, those good habits that can help reduce high blood pressure."
She advised:
Get moving. It can be difficult to exercise every day, but you can tailor your needs to your schedule. There are multiple apps or YouTube channels to help you find something that works for you.

Watch what you eat, especially if you can't exercise. Consume less sodium, red meat and saturated fats; more fruits, vegetables, whole grains and fish. The best heart-healthy diets are the Mediterranean diet or the DASH diet.

Lose weight. For every 2 pounds you lose, your blood pressure can drop by a point.

Stimulate your mind. Stay in touch with family and friends, even virtually. Get outside if you can. Don't be isolated at home in front of the TV.

See your doctor. Get back to those scheduled visits with your primary care physician and specialists.
The right pressure
If you want to self-monitor your blood pressure, Dr. Ghetiya recommended using an arm cuff versus a wrist monitor for better accuracy, and making sure the size is right for the user. Other important tips to success include:
Take your blood pressure reading only twice a day
Relax for 10 to 15 minutes prior to testing
Take any medications one to two hours before testing
Uncross your legs
Once you get an average over several days, talk with your primary care physician or cardiologist about what treatment you may need.
---
Your primary care physician is an important ally in your medical care, including monitoring your blood pressure. Baptist Primary Care has locations across the Jacksonville area so you can find care close to you. Call 904.202.4YOU (904.202.4968) or request an appointment online. Need a cardiologist? Go to Baptist Heart Specialists to find a doctor near you.