Sedentary slump
7 tips to get moving while on the job.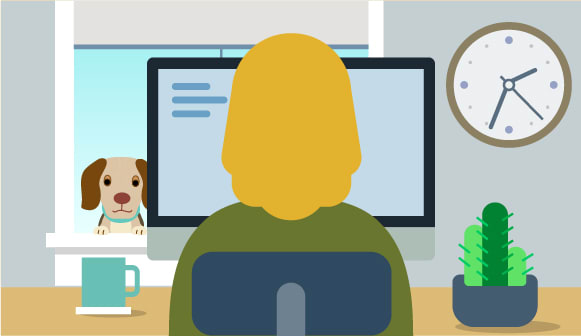 Typically, I'm not one to have "white coat syndrome" – the tendency to develop high blood pressure around doctors – when going to routine checkups. However, in March 2021, I was feeling a bit apprehensive going to my 6-month appointment with my primary care physician.
It turns out, my gut was right. He upped my blood pressure meds, put me on a new medication for cholesterol and let me know I had gained 17 pounds in the past year (thanks, COVID!). He then kindly told me if I didn't want to see yet another 10 pounds added to the scale, I needed to do something to burn some calories.
Working from home has made me more sedentary. I am missing out on steps around the office, and to or from the parking lot, elevator and restroom. At home, my commute is limited to the path from the computer chair to the bathroom to the kitchen. So, I reached out to Skyler Earlman Tucker, a wellness coach at Baptist Health's JCA Wellness Connexion and Mandarin Y Healthy Living Center. He shared some simple, yet highly effective tips to make a healthy difference over the long haul.
"The so-called 'COVID 19' or 'quarantine 15,' in reference to weight gain, has affected us all in one way or another, especially those of us whose jobs and duties are still primarily done from home. Though the pandemic is slowly coming to a manageable level, there are some things you can do if you're still working remotely, many of which apply to working in the office, as well," said Tucker.
Here are Tucker's top tips:
1. Convert your travel and getting ready time. Wake up when you would normally start your commute to the office and instead, use that time to get your steps in by walking your dog or strolling around the neighborhood.
2. Stand up and get moving. Every hour, get up and stretch or move around the house. If you're taking a phone call, sneak in some steps and walk while on the phone.
3. Try one of the "fierce 5-minute movement breaks" from the American Heart Association. The quick workouts focus on everything from core strength to flexibility. Most of the exercises don't require much space or can be done while in a chair.
4. Be mindful of mindless eating. Ask yourself why you're frequently snacking. Is it because you're hungry, or just because you're bored? A good way to test this is by trying to munch on a healthy fruit or vegetable that you feel indifferent about. If you eat it with no hesitation, it's hunger; if you turn away from it and crave something else, it's boredom.
5. Ensure you have set times every day to eat. A good way to do this is to block out your lunchtime on your work calendar. Also, schedule 5- to 15-minute breaks twice a day to eat a healthy snack. Setting aside time specifically for eating makes you less prone to grazing all day, especially if you work close to the kitchen.
6. Have an idea of what you will be eating. Make an effort to plan your meals for the next day. You don't have to meal prep for the week; take it day by day! If you're already making dinner, make an extra portion or two to pack for lunch the next day or sometime during the week.
7. Get rid of temptation. If you're going to be home all day, don't buy unhealthy snacks you'll be tempted to pick up and eat between conference calls. When in doubt, refer back to No. 4 on this list.
Tucker added, "The main takeaway is to keep a schedule and routine while being mindful of how much you're moving and what you're eating. Many of these tips are just habit changes, yet are small enough to incorporate into your lifestyle and stick to for the long haul."
---
If you'd like to make positive changes in your lifestyle with the help of a wellness coach, like Tucker, visit baptistjax.com/4her or call 904.202.4her to set up a complimentary coaching session.
Source: American Heart Association