Code Stroke: "I didn't have the classic symptoms
80 percent of stroke patients hesitate to seek medical help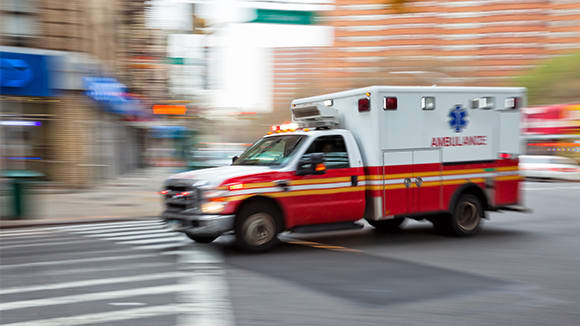 Only 20 percent of stroke patients come, or are brought, to an Emergency Room in time to receive brain-saving treatment. Timely action and access to a primary stroke center can pave the way for recovery. What's keeping the other 80 percent from seeking care promptly?
An entire 24-hour stroke team at Baptist Health thinks about that question. Some lose sleep over the answers. They have spent years preparing to care for stroke patients in the fastest and most effective ways. The time it takes them to move you from the door of the Emergency Room to the treatment that's right for you is record-breaking.
They want you to know one thing: Get here. Fast.
"I've had people tell me that they thought the symptoms would go away if they could just lay down for a few hours," says Wendy Camp, ARNP and director of the stroke program at Baptist Health. Delaying treatment ends up costing precious brain function and causing disability in those who don't receive treatment within the optimal medical window for brain-saving interventions.
Call 911
Rather than wait to see what happens or trying to sleep it off, a better course of action is calling 911. Don't attempt to drive yourself to the hospital. If you, a family member or friend is having a stroke Camp says your best bet is to call 911.
Signs of a stroke:
Balance is off, dizziness, nausea.
Eyesight changes in one or both eyes.
Face droops on one side.
Arm drifts downward when raised.
Speech is slurred.
Time is critical: Call 911 immediately.
A stroke is a brain attack. It requires immediate action – just like a heart attack. Similar to a heart attack, it can have symptoms that are not the classic sharp pain or "elephant sitting on the chest." If a stroke is suspected, the best thing you can do is call 911 immediately.
What happens at Baptist Health when you call 911?
EMS personnel assess you and do a pre-notification call to Baptist Health's stroke team. Between 15 – 20 medical professionals are alerted to the fact that you've had a stroke and you're on your way.
Baptist Health stroke team members are ready to meet you at the door and take you directly to a CT scan machine in the Emergency Room.
The CT scan can show what areas (if any) of the brain have been affected by a stroke (either a blockage or a bleeding stroke). It also shows what areas are in the clear and can be saved with quick intervention, including areas that control your speech and movement.
If the stroke is caused by the blockage of an artery, the stroke team will determine whether you can benefit from tPA (an IV medication designed to break up the clot), a mechanical thrombectomy (a minimally invasive procedure to remove the clot), or both.
If you are within the appropriate time window for tPA, and you don't have any contraindications to the medication (reasons to not use the medication, as it would pose greater risk than benefit), tPA will be administered once the CT scan confirms there is no evidence of bleeding in the brain.
If you would benefit from a thrombectomy, the stroke team will rapidly prepare you for the procedure and escort you to the procedure area, where a neuro endovascular specialist (a neurologist or neurosurgeon with special training) will perform the procedure. Many patients receive both forms of treatment.
After treatment, you will recover in the neuro post-anesthesia care unit or the neuro intensive care unit. It is possible to preserve most of your brain functions with quick action from you or your family, along with the rapid assessment and treatment by the stroke team at Baptist Health.
"I didn't think it was possible."
Life-changing interventions are allowing people to resume their lives and to recover successfully from stroke. Even those who do not arrive at the hospital within the optimal window of treatment are benefiting from clinical trials that expand the window of time and enable interventions hours after the onset of symptoms.
Baptist Health's Stroke & Cerebrovascular Center has the most advanced stroke care in the region. A compassionate team from several medical disciplines is ready with the latest practices, technology, rapid diagnosis and effective intervention.
"Many times we don't get the opportunity to try to help the person because they didn't get here fast enough," Camp explains. "It becomes a could've, would've, should've situation. You wish they got here sooner to have given them a shot at a full recovery. You know what could have been."