71 days
Family heals after mother's aneurysm.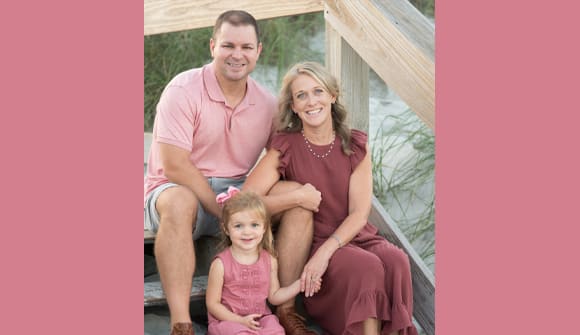 "A 71-day journey of pain, faith, prayer and healing."
That's how Wade Whitehurst describes his wife, Dawn's, recovery from a ruptured aneurysm.
On August 24, 2021, Dawn Whitehurst, 48, a former pediatric nurse and educator at Wolfson Children's Hospital, rose early one morning to meet friends to go running. Following a family vacation and a 4th birthday celebration for her daughter, she was back to training for an upcoming sprint triathlon.
Wade Whitehurst was across the house in their bedroom when he heard Dawn's metal water bottle hit the floor. He didn't think anything of it, until moments later when Dawn came into the bedroom, hanging onto the wall and repeatedly saying, "Help me," in a tone of voice he had never heard before. She collapsed on the bed, complaining she felt nauseous and had a headache. She then lay down in the bathroom and asked Wade to call 911, which he did at 5:39 am.
'Every minute counted'
First responders with the Jacksonville Fire and Rescue Department arrived, assessed the scene and transported Dawn to Baptist Medical Center Jacksonville, which is a comprehensive stroke center (a brain aneurysm can cause a hemorrhagic stroke if the artery ruptures). Wade quickly secured childcare for their daughter and followed in his car.
The Emergency Department team called him at 6:13 am for an update on his location. A doctor met Wade when he got to the hospital and tried to rush him back to see his wife before she went into surgery, but she was already being prepped.
"When Mrs. Whitehurst arrived, she was in critical condition and close to being in a comatose state," said Nima Aghaebrahim, MD, a neurointerventionalist with Lyerly Neurosurgery at Baptist Health. "Every minute counted to start treatment."
Dr. Nima explained that Dawn had an aneurysm that had burst and was leaking into her brain, and pressure was building. "The location of this aneurysm was unusual in that it was deeper in the brain than we would normally expect."
He immediately inserted an external drain into the brain to remove the fluid and decrease the pressure. The team then identified the source of the bleed and successfully sealed it.
Ticking time
After 21 days, Eric Sauvageau, MD, neurovascular surgeon and co-director of the Stroke & Cerebrovascular Center, performed a craniotomy to remove part of Dawn's skull to relieve continuing swelling in her brain. In addition, the Neuro Intensive Care team continued to treat multiple other issues related to her brain bleed. Wade was allowed to visit, but his wife remained unconscious.
Still, to him, Dawn's survival was never a question.
"Our faith is very important to us," he said. "I never Googled 'ruptured brain aneurysm,' because I didn't want to know what could happen. I always just believed she would be healed."
That faith was augmented by the health care team surrounding their former colleague.
"I had no idea we were ending up at the best place we could have been," Wade said.
Dr. Nima explained, "We treat all of our patients equally, but this was close to our heart because she was a colleague."
He credits the multi-disciplinary care team surrounding Dawn for her recovery including, Eric Sauvageau, MD, neurovascular surgeon and co-director of the Stroke & Cerebrovascular Center, who performed the craniotomy, and the Neuro Intensive Care Unit (ICU) team.
Time marches on
After the craniotomy, Dawn Whitehurst's condition began to improve. In the weeks that followed, she was awake more than asleep, moved her right arm and leg for the first time since her collapse, opened her eyes and gave her husband a kiss on his cheek.
"It was nothing short of miraculous," Dawn recalled.
"At that point, I knew she was going to be OK," said Wade. "We weren't sure what 'OK' was going to look like, but I knew she was going to survive."
Dawn spent about a month and a half in the Neuro ICU at Baptist Jacksonville before moving to inpatient therapy at Brooks Rehabilitation Hospital for another month.
During those 71 days between entering the hospital to leaving rehabilitation, she had thousands of people praying for her, and her former nursing colleagues created a prayer blanket for her.  
Today, Dawn's back on pace physically – running, swimming and keeping up with her daughter, who is glad to have mommy home. Because she was in good health prior to her collapse and had no family history, doctors are unsure what caused the aneurysm.
"Aneurysms can happen to anyone at any age. It's important to know the risks and symptoms," said Dr. Nima.  "Act quickly if you or someone you love exhibits those symptoms. Time is brain – the faster you act, the better chance you have of recovery."