'This vaccine saves lives'
Health care heroes lead the way in next stage of fight to finish COVID.
When the novel coronavirus first arrived in the United States in early 2020, hospitals nationwide braced for a wave of patients stricken with an unprecedented, highly contagious illness, while facing a personal protective equipment (PPE) shortage that put providers at additional risk. Without hesitation, health care workers rolled up their sleeves and got to work, helping and healing countless patients.
When the COVID-19 vaccine became available, frontline health care workers in Jacksonville rolled up their sleeves to yet again to receive them. For these caregivers at Baptist Health and Wolfson Children's Hospital, the vaccine is a way to protect themselves and others, a chance to stay healthy to keep caring for those in need, and another way to lead the nation in the fight against COVID-19.
'It's my duty.'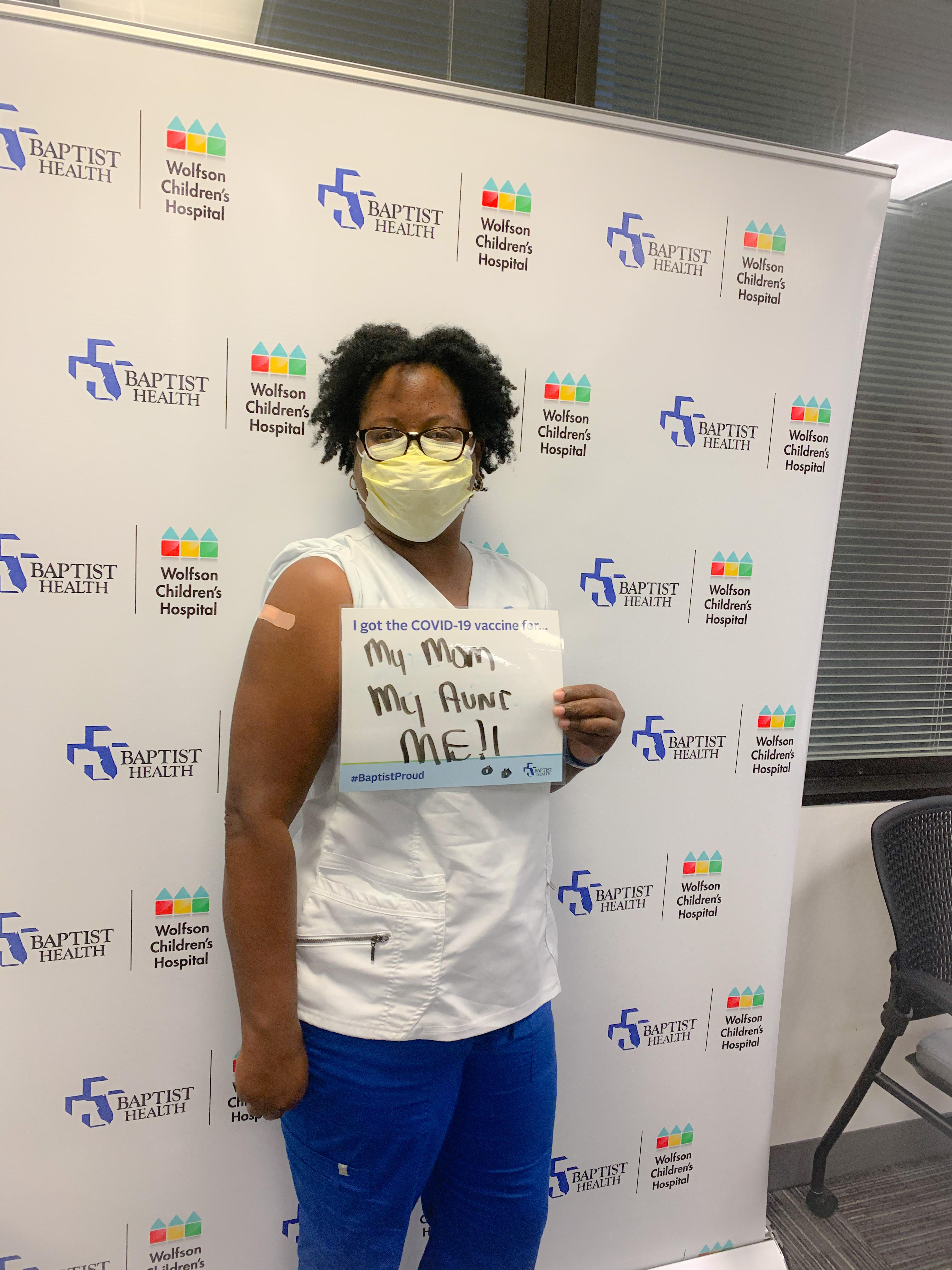 "I decided to receive the vaccination because my unit has been the COVID-19 unit since March 2020, and we have been enduring everything. On top of that, my aunt passed away about two weeks ago from COVID-19. So, I know it's my duty to go ahead and get vaccinated.
"My hope for the future is that everybody else will take that consideration of others and receive the vaccine. I think it is our best tool to slow the spread of COVID, in addition to masking and social distancing. I believe everybody needs to think about getting vaccinated to keep themselves safe so we can get back to normal.
"This vaccine saves lives. That is what I feel, being a military veteran who has received numerous vaccines in the past. I feel like this one is straight from the heart, and it's going to save the lives of many people."
– Tujuana Dudley, RN, nurse manager of the COVID unit at Baptist Medical Center South
'Anything I can do to protect myself and those I love, I'm going to do.'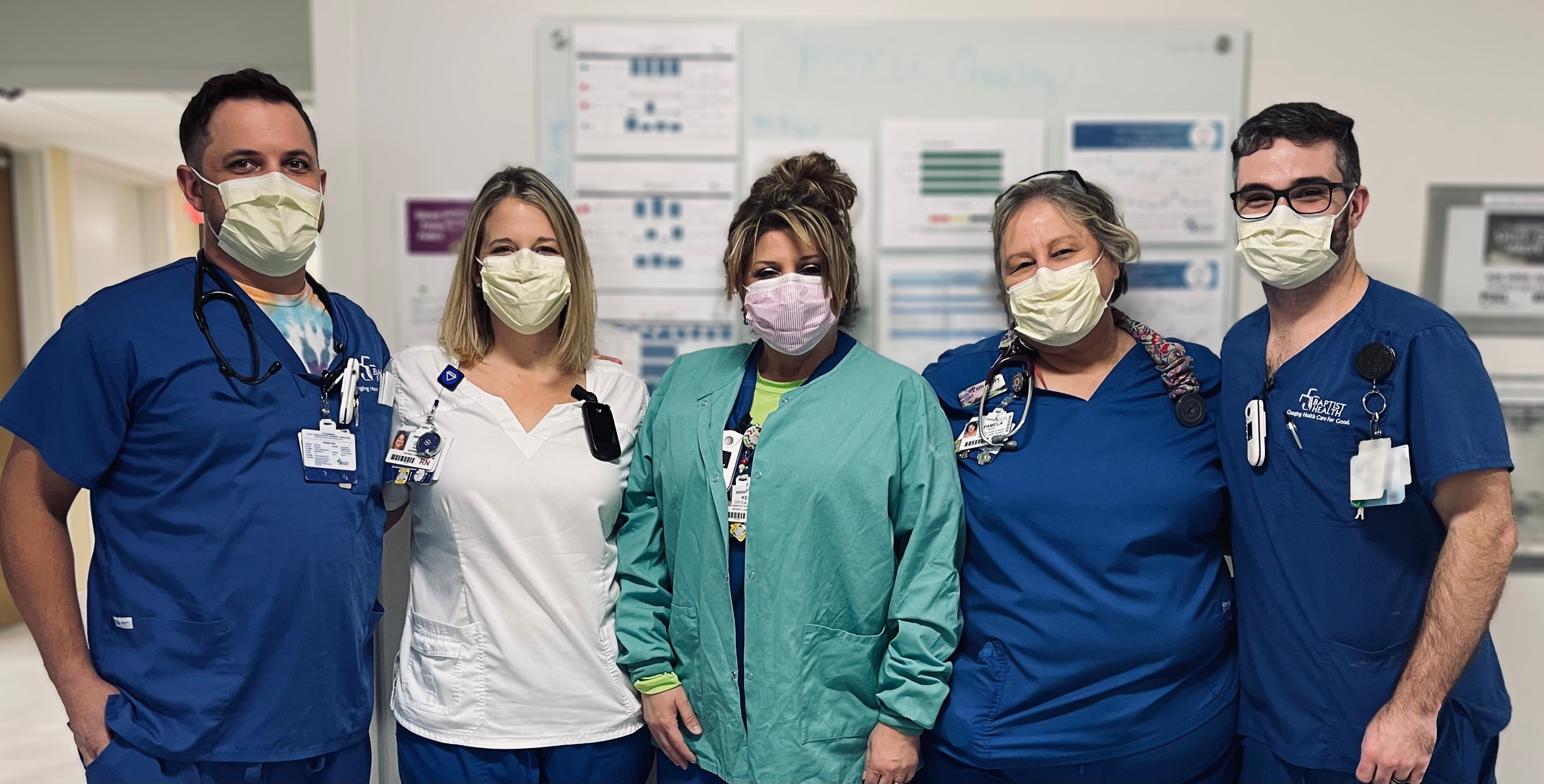 "I got the COVID vaccine to do my part to make sure I keep the people around me safe. Because I work in the ICU, I see the worst-case scenarios of what happens to people with COVID-19, and there's really no rhyme or reason to it. You have families where both the wife and the husband get it, and the wife does just fine and the husband does not, or vice versa. So, you just never know how a person is going to react to this virus. Anything I can do to protect myself and those I love, I'm going to do."
– Caryn Parkhurst, BSN, RN, (second from left) nurse manager in the medical-surgical ICU at Baptist Medical Center Jacksonville
'This is an added level of protection for our kids.'
"We take care of a lot of kids who are immunocompromised, so I got the vaccine out of concern for them more than anything else. I don't want to contract COVID and then unknowingly give it to one of my patients, even though we take all the precautions necessary to try to prevent that. This is just an added level of protection for our kids.
"I've seen the wonderful things that happen with vaccinations throughout my career. One example was Hib disease, which used to be very dangerous for newborn babies, and we hardly ever see it now thanks to a vaccine. COVID has been so devastating, but I think the same thing will happen."
– Anthony Pohlgeers, MD, chief of Pediatric Emergency Medicine for Wolfson Children's Hospital and medical director of Pediatric Emergency Medicine for Emergency Resources Group
'The science is sound.'
"I work as a physician in the emergency room at Baptist Medical Center Jacksonville. I've been working there for about 14 years. I got the vaccine because I'm in a high-risk area. We see a lot of COVID-positive patients; some don't even know it. We never know who's going to walk in but we provide the same care, whether a person has the virus or not.
"I didn't have any reservations. I read about the science behind the vaccine. It makes sense. Even though it's a new vaccine, the science is sound and has been around for many, many years. I would advise people to do their research from reputable sources. Don't listen to Facebook or go by what your grandmother, aunt, sister, or someone else told you. There are many resources out there that kind of break it down into layman's terms so it's easy to understand."
– Steve Rigaud, MD, emergency medicine physician with Baptist Health and Emergency Resources Group
'We can get this pandemic under control.'
"I feel great. I had no side effects from the vaccine. I'm just very excited and hopeful for the future of our country and the world, that we can get this pandemic under control. For anyone unsure about the safety of this vaccine, I would say the science behind it is solid. It is the same science that has been used to develop all the vaccines we give to children, pregnant women and everybody else."
– Evaleen Caccam, MD, OB-GYN at Baptist Health
'I'm ready to serve my patients and my community.'
"I'm very proud to promote COVID vaccinations for everybody, because it's the only way to stop the pandemic. I believe the scientific research. A lot of people want to see what happens during the first few months of vaccinations, so I'm also doing it to build their confidence to get the vaccine as soon as possible. This vaccine allows me to take care of myself as a health care worker so that I'm ready to serve my patients and my community."
– Kimlan Nguyen, occupational therapist with Baptist Home Health
---
At Baptist Health, we want to help keep our community informed about COVID-19. For more information about COVID-19 vaccines as they become more widely available to the public, visit baptistjax.com/covid19vaccine.