All stopped up
Ways to overcome constipation.
Vikki Mioduszewski Published: July 19, 2019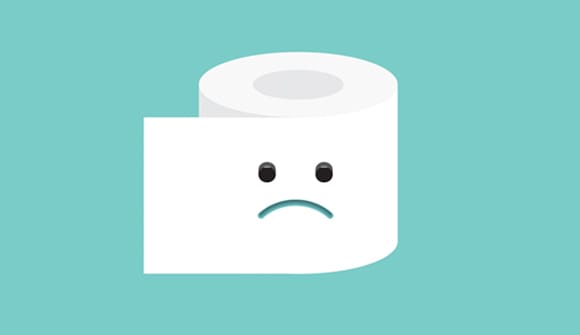 We've all been there.
Sometimes it happens when you're traveling. Other times, it has just been a stressful, busy week.
You're bloated and uncomfortable. You sit and wait on the toilet day after day, but nothing or barely anything happens.
You're constipated, and also quite miserable.
But there are ways to help you find relief from chronic constipation, whether it's changing your diet, taking over-the-counter medication, prescription medicine or exercising. And, there are steps to take to keep from getting stopped up in the first place.
Constipation generally means you've had:
Three or fewer bowel movements in a week
Straining
Lumpy or hard stools that are difficult to pass
Feeling that you are not finished
"Constipation can cause abdominal pain, bloating, cramps, decreased appetite and fatigue," said Jami Feltner, MD, an internist with Baptist Primary Care.
Input may impact output
What you eat and drink, or what you don't could be culprits. Constipation can be caused by:
Poor diet (eating too much meat and dairy products and processed foods high in fat and sugar)
Not eating enough high-fiber food
Lack of water and other fluids
Consuming too much alcohol and/or caffeine
Not exercising enough or having an inactive lifestyle can also cause problems with your bathroom routine. Exercising helps keep your bowels moving.
In addition, using certain medications (pain medicine, antidepressants, diuretics, calcium supplement), and even depression and anxiety, can be factors too.
In most cases, changing your diet and lifestyle can improve regularity. But if that doesn't help and the problems persist, seeing a doctor is important.
Constipation can cause hemorrhoids, anal fissures (tear in your skin), rectal prolapse (when the rectum protrudes because of straining) and fecal impaction (when stool becomes stuck in your colon or rectum), all serious conditions.
"Occasional constipation can be normal, but rarely, more serious medical conditions and/or medications can be the cause," said Dr. Feltner said.
Secondary causes of chronic constipation could be from endocrine/metabolic disorders (thyroid, diabetes or pregnancy), neurological disorders (multiple sclerosis or Parkinson's disease) and structural issues (bowel obstruction or cancer).
In addition to drinking plenty of water and exercising, some ways to avoid constipation include:
Consuming 25 to 35 grams of fiber daily, including fruits, vegetables and whole grains with every meal
Managing your stress
Establishing a regular daily bathroom time and going as soon as there is the urge
If dietary changes or lifestyle modifications don't help, consider laxatives, including stool softeners, that make it easier to go.
Bulk-forming laxatives including Metamucil®, Citrucel®, FiberCon® or Benefiber® also help by absorbing water, softening stool and increasing stool mass, Dr. Feltner said. Osmotic laxatives (such as MiraLAX®) work by increasing the water content in your intestine.
Due to possible adverse effects, Dr. Feltner added that stimulant laxatives such as Dulcolax® or Senokot® should only be used if other laxatives were not successful. For severe chronic constipation, your physician may prescribe another medication.
"Always talk to your doctor before starting any medication or supplement and with any alarm symptoms such as blood in your stool, recent unexplained weight loss, a family history of bowel disease/cancer, or change in the shape of your stool," Dr. Feltner said. "If you are still suffering from constipation after trying dietary changes, exercise and over-the-counter remedies, it may be time to see your doctor to rule out other medical conditions."
To find the right primary care doctor for you or your loved one, call Baptist Primary Care at 904.202.4YOU (4968). With more than 50 convenient locations, Baptist Primary Care physicians, nurse practitioners, physician assistants, nurse navigators and care coordinators work as a team to help you manage your health.
Close X