A diabetes-friendly Thanksgiving
Moderation and smart choices can help you enjoy the holiday.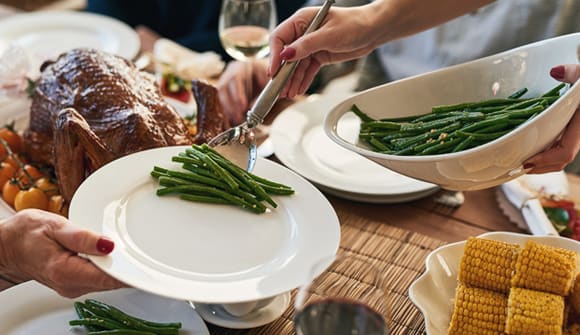 Navigating one of the most food-focused holidays of the year isn't easy for anyone trying to maintain a balanced diet. For the 37 million Americans with diabetes, the feast can be especially tricky, but definitely not impossible.
"With some tweaking, people with diabetes can still enjoy a delicious Thanksgiving meal with their friends and family," said Katherine Gilsenan, a wellness coach at the Baptist Center for Healthy Living - Nocatee. "It's all about moderation and making smart choices."
Diabetes is a chronic condition where the body doesn't produce enough insulin, which is needed to deliver blood sugar (glucose) to cells to be used for energy. Because of this, glucose remains in the blood, which keeps blood sugar levels high.
"Controlling blood sugar is the key to managing diabetes," said Gilsenan. When blood sugar levels spike, a person with diabetes can experience increased thirst, nausea, stomach pain and fatigue. Left untreated, diabetes can cause kidney disease, eye damage and an increased risk for heart disease or stroke.
Best Thanksgiving foods for diabetics
So, what are the best food selections for those living with diabetes?
"Keep foods high in protein and fiber at the top of the list," Gilsenan recommended. "The best choices are turkey and veggies. Turkey is a great source of lean protein and vegetables are high in fiber, both of which help control blood glucose levels."
At the bottom of the list: foods high in carbs such as cranberry sauce, stuffing, starchy vegetables or side dishes, breads, pies and other desserts, sweetened beverages and alcohol. Be sure to practice portion control and moderation when eating these items.
Sticking to water is a great way to eliminate the vast amount of added sugar in many drinks.
Healthier Thanksgiving food swaps
Here are some other easy switches for a more diabetes-friendly holiday:
Whipped cauliflower instead of mashed potatoes
Roasted vegetables like Brussels sprouts instead of green bean casserole
Cauliflower instead of breadcrumbs for stuffing
Removing the crust from pie or serving dessert in a cup or mug to control serving size (see recipe below)
Diabetic-friendly dessert
It's all about moderation when it comes to dessert. Here is one of Gilsenan's favorite healthy Thanksgiving dessert recipes.
Pumpkin Pie in a Cup
Ingredients:
2 cups fat-free milk
1 box (1 ounce) fat-free, sugar-free instant vanilla pudding
3/4 cup 100% pure pumpkin puree
1 teaspoon pumpkin pie spice
4 tablespoons thawed low-fat frozen whipped topping
Directions:
Whisk together the milk and pudding mix in a medium bowl for 2 minutes, or until thickened. Whisk in the pumpkin and 1/2 teaspoon of the pumpkin pie spice until blended. Pour into 4 pudding cups or glasses.

Chill until ready to serve. Top each with 1 tablespoon of whipped topping over the pudding and sprinkle with the remaining 1/2 teaspoon pumpkin pie spice.
Nutrition per serving: 92 calories, 5 g protein, 17 g carbohydrates, 1.5 g fiber, 8 g sugar, 1 g fat, 348 mg sodium
Recipe from Prevention.com
---
Get help managing your diabetes
Your primary care physician can help you manage your blood sugar. If you've been diagnosed or are concerned about diabetes and want to get screened, make an appointment with a physician near you.