Smart lady
Technology helps save mom after stroke.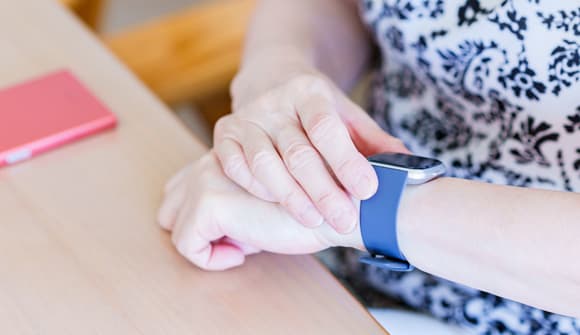 You may have heard the phrase "time is brain" when talking about strokes: the faster you can get medical care, the better chance of recovery you have. So, it makes sense the most common keeper of time, a watch, helped save Ann Leathery's life after she suffered a stroke.
'Pretty' watch, life-saving purpose
Leathery, 82, didn't want a medical monitoring device; she likes pretty jewelry. When her son and daughter convinced her to consider a well-known smartwatch, for which you can buy "fancy" bands, she agreed to wear it.
One of her five grandchildren programmed the watch to detect hard falls and notify her children, emergency services and a friend if something happened. One week later, while home alone, Leathery had a stroke, which paralyzed her left side. She fell and lost consciousness.
The watch did as programmed – her son and daughter were alerted right away, as was her friend, who was able to call 911 and provide a house key to emergency medical services (EMS). Paramedics arrived and transported Leathery to Baptist Medical Center Jacksonville, which is a comprehensive stroke center.      
Just in time
Jason Day, MD, a vascular neurologist with Baptist Neurology, was on duty and met her upon arrival. He quickly confirmed a stroke and administered tissue plasminogen activator (tPA), a medication designed to break up clots. In the end, Leathery was found to have blocked arteries in both her neck and her brain. Nima Aghaebrahim, MD, a neurointerventionalist with Lyerly Neurosurgery at Baptist Health, was notified and performed surgery to remove the blood clot in Leathery's brain and place a stent for the blockage in her neck. Both were successful and she is now doing well and going through physical therapy to improve her strength.
"Everybody in my family has that watch now," said Leathery, who hopes this was her first and last stroke.
Leigh Anne Wallace, Leathery's daughter, credited two things for her mom's recovery: her physical fitness prior to the stroke (Leathery exercises on her stationary bike and rowing machine every day), and the smartwatch for helping quickly get her mom to the hospital. 
Dr. Nima agreed, "Without that alert, she probably would not have been able to get help or to the hospital fast enough to get the proper treatment. The advancements in widely available technology – devices and artificial intelligence – help us treat patients more rapidly and effectively."
---
Time is brain when it comes to stroke. Call 911 if you or a loved one experiences any signs or symptoms of the condition. For more information, go to Baptist Health's Stroke & Cerebrovascular Care page.