Cured of COVID-19 at home
Single mom had a 100-degree fever for 40 days.
Johnny Woodhouse Published: August 16, 2020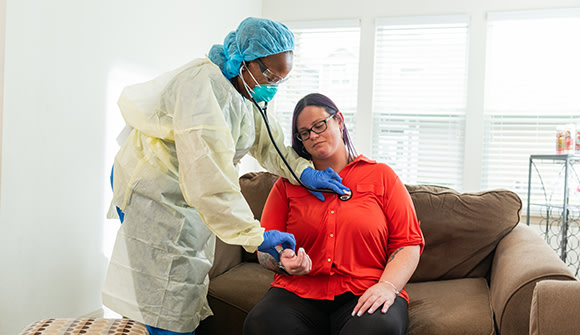 Jacksonville resident Meghan Debbie came down with COVID-19 this past spring and self-isolated in her home for nearly two months.
She received regular visits from a Baptist Home Health Care nurse and daily virtual visits from both a Baptist Home Health case manager and Baptist Primary Care (BPC) physician.
"I was ill to the point where comparing it to a bad case of the flu doesn't begin to describe it," said Debbie, a 30-year-old single mom who isn't sure where she contracted the novel coronavirus. "My fever was spiking and I had shortness of breath."
"That's when my Baptist family physician, Lynsey Schlotzer, MD, put in an order for a Baptist Home Health nurse to come to my apartment. The nurse literally showed up at my doorstep in a matter of hours," Debbie added.
"Actively contagious"
Lotoya Roberson, RN, arrived at Debbie's Bartram Park apartment and immediately checked Debbie's blood-oxygen saturation level, using a pulse oximeter that clipped onto her finger to measure how much oxygen her red blood cells were carrying.
A normal reading is typically between 95 and 100 percent. Debbie's was below normal. Roberson left a pulse oximeter with Debbie so she could check and monitor her own oxygen saturation levels overnight.
A day later, Debbie's oxygen saturation level had fallen even lower, so a second Baptist Home Health nurse, Lori Overstreet, BSN, consulted with Dr. Schlotzer before starting Debbie on oxygen therapy.
"Baptist Home Health provided me with plenty of oxygen, including a portable oxygen concentrator that never ran out," said Debbie, a local pharmacy manager who quarantined in her bedroom while her 10-year-old son, Ryan, moved in with his grandmother.
"My mom had to take care of him, while I was actively contagious, but we were able to stay in touch through video chats. It's always been just me and him, so it was hard on both of us," she added.
Physician level of engagement
Lisa Kidd, MSN, Baptist Home Health administrator, said Baptist Health patients experiencing symptoms of COVID-19 can receive enhanced home support by first calling their Baptist Primary Care (BPC) physician.
"The majority of our patients experiencing COVID-like symptoms were referred to us from one of our more than 50 BPC offices, not from hospitalizations," said Kidd, who heads up a skilled team of Home Health nurses, aides, therapists and social workers.
"Our nurses can be dispatched to the home relatively soon with a variety of resources, including kits to obtain a COVID-19 test specimen and blood samples, in addition to oxygen, and self-monitoring supplies."
A physician's order set allows the Home Health nurse to perform lab work in the home and start the patient on oxygen if needed. Baptist physicians, including hospitalists and ER physicians working with Baptist Health, can refer patients to this new Home Health service.
Amy Caldwell, RN, a Baptist Home Health case manager, kept in constant contact with Debbie through virtual visits and text messaging.
Debbie said Caldwell was there when she needed her most, especially one day when her shortness of breath was so severe she had to increase her oxygen intake to near maximum levels.
"I was having trouble breathing and Amy calmed me down and then got Dr. Schlotzer on the phone," Debbie recalled. "They were super attentive to my care and really in touch with one another."
Added Dr. Schlotzer: "Her shortness of breath was extremely alarming and persistent for three weeks. She literally had a fever of more than 100 degrees for 40 days straight."
Joint effort
Debbie's weeks-long fever finally broke on May 25. Her body stopped aching and her dry cough started to subside. A Baptist Home Health nurse swabbed her twice for COVID-19 and both tests came back negative.
"When her fever broke, I knew she had turned the corner and the virus was giving up," said Dr. Schlotzer. "Her breathing started to improve after that."
Through a joint effort with Baptist Home Health and BPC, Debbie was able to be treated for COVID-19 on an outpatient basis, saving her from making multiple trips to the ER or being admitted to the hospital.
"I don't think I would have made it if it were not for Dr. Schlotzer and the Baptist Home Health nurses," said Debbie, who was out of work for 49 days battling COVID-19. "The care I received from Baptist was unparalleled."
At Baptist Health, we want to help keep our community informed about COVID-19. For more information, visit covid19.baptistjax.com. For questions about COVID-19 symptoms, call 904.302.5050.
Close X