Pack a mask?
Traveling with children too young for a COVID-19 vaccine.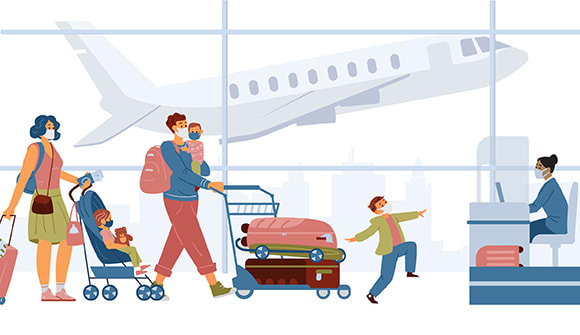 Memorial Day weekend is almost here, and your family may be looking forward to a few days by the pool, a trip to the beach, or a barbecue with loved ones. If you'll be traveling, health experts have some advice for parents with children under 5 who aren't yet eligible to be vaccinated against COVID-19, now that mask mandates have been lifted by most airlines.
"Though it's tempting to take the masks off everywhere, there are benefits to masking on public transit and airplanes," said Shalika Katugaha, MD, system director of infectious diseases at Baptist Health. "While we can feel safe unmasked in most places, the Centers for Disease Control and Prevention (CDC) recommends masking on public transportation."
So, yes, you should definitely pack plenty of masks. Here are the other important questions parents of little ones should ask themselves while making travel plans, and doctor-recommended tips for keeping everyone healthy en route.
Where are you going?
Mobeen Rathore, MD, chief of pediatric infectious disease and immunology at Wolfson Children's Hospital, said it's still wise to avoid areas with high rates of COVID-19 infection, especially if children are too young for the vaccine.
"Right now, in most parts of the country, the virus isn't as prevalent as it was over the winter, but we're seeing increasing infections in the Northeast. Certainly, this is something to bear in mind if you have a less-than-5-year-old child who hasn't been vaccinated," he said.
How are you getting there?
Both Dr. Katugaha and Dr. Rathore agreed that traveling by car is the safest way to get from point A to point B (yes, even with that holiday traffic).
"If you can, drive to your destination to reduce the risk of exposure," Dr. Rathore said. "If you have to travel by air, have your child wear a mask. Take all the precautions."
"Planes and airports are breeding grounds for the virus," Dr. Katugaha said. "Some people are from places with high vaccination rates and low levels of transmission. Others are from places with low vaccination rates and high levels of transmission. Intermingling on planes and in airports can lead to the spread of virus strains to different parts of the country and world. The longer the ride, the more time the virus has to spread."
Who are you going to see?
Even if you're not traveling with children under 5, if you'll see little ones when you reach your destination, keep them in mind along the way. Some extra care on your part could prevent you from carrying COVID-19 to their doorstep.
"Vaccination and masking will provide extra protection to those who are unable to get vaccines," Dr. Katugaha said. "Parents should wear masks with or without their children present."
The safest trip possible
Both physicians agreed that practicing all the safety and hygiene guidelines recommended throughout the pandemic can keep your family healthy now. That means you should:
Wear a well-fitted mask on airplanes, buses, trains or ferries, and indoors at transportation hubs like airports.
Check the CDC's website for up-to-date COVID-19 transmission rates around your destination. Practice extra precautions in high-transmission areas.
Travel at times when public transportation and hubs are least likely to be crowded.
Open windows, if possible.
Wash your hands often.
Don't travel if you have symptoms of COVID-19, have tested positive, or are waiting for results of a test.
Parents of young kids may not always have to take these precautions – a vaccine for children as young as 6 months is currently being reviewed – but until then, it's best to be safe.
"There is hope for the summer. In April 2022, Moderna asked the Food and Drug Administration (FDA) to authorize its COVID-19 vaccine for children ages 6 months to 5 years old. The key theme in 2022 will be flexibility. Be willing to adjust during your trip in case restrictions and policies change," said Dr. Katugaha. "We have not eliminated this virus. Vaccines remain effective, and masking is protective. Stay vigilant through the year."
---
At Baptist Health, we want to help keep our community informed about COVID-19. For more information about COVID-19 vaccines, visit baptistjax.com/covid19vaccine. Click here to find a vaccination location near you.
Reference: CDC COVID-19 Community Levels tracker