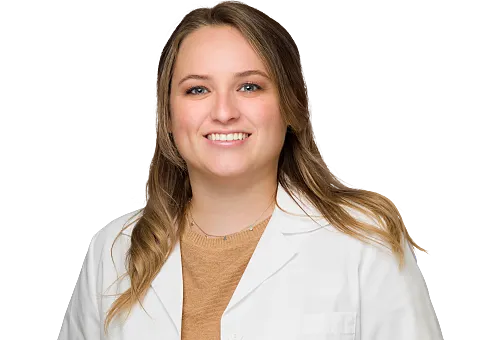 Alexandria Young, APRN
Advanced Practice Registered Nurse
Alexandria Young, APRN Office and Other Patient Information
Alexandria Young, APRN Biography and Info
Alexandria Young, APRN, is a certified family nurse practitioner who practices compassionate, patient-centered care. Ms. Young has spent most of her career working in adult oncology. She has a passion for helping those diagnosed with cancer and has worked for the last four years in the bone marrow transplant unit, where she cared for patients throughout the entire stem cell transplant process. She believes in practicing comprehensive, evidence-based care for all of her patients. Her areas of expertise include:
About Me
I moved to Jacksonville from Texas to be closer to my family and the beach. I'm proud to call the 904 area my home. My husband and our two dogs enjoy swimming in the ocean and going on long walks through the woods behind our house.
My philosophy of care consists of providing holistic and compassionate care. I believe in therapeutic communication and developing meaningful connections with my patients.
I think it's so important to make time to give back to the community even in our busy day-to-day lives. Something small I like to do to give back is making "goodie" bags for the homeless that I give out when I'm driving around town. I put snacks, wipes, socks, and water in zip-lock bags that I keep in my car. They are easy to make and I believe that even a small, kind gesture can make a big difference.
Specialties
Advanced Practice Registered Nurse
Boards
American Association of Nurse Practitioners (Family Nurse Practitioner)
Languages
Hospital Affiliation
Baptist Medical Center Jacksonville
Baptist Medical Center South
Baptist Clay Medical Campus
Legal Practice Name
Baptist MD Anderson Cancer Physicians Inc
Ages Treated
Alexandria Young, APRN Additional Information
Education & Training
Bachelors of Science in Nursing - Undergraduate

University of Florida

Master of Science in Nursing - Graduate

Texas Woman's University

2020 – 2022