Kate McCann
,

MHRD
Senior Vice President and Chief Human Resources Officer
Kate McCann Biography and Information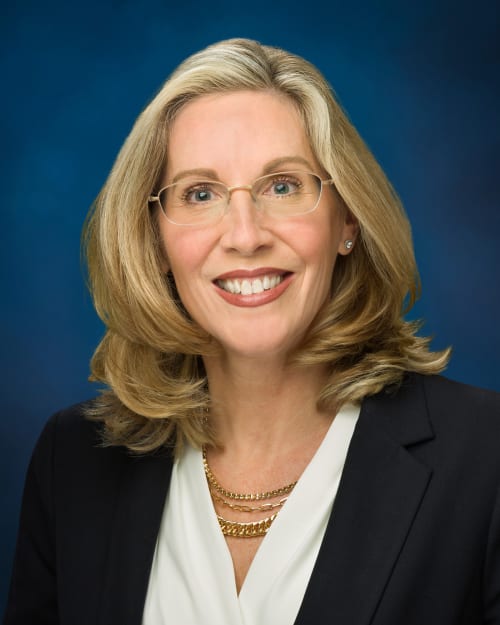 Kate McCann joined Baptist Health as the Senior Vice President and Chief Human Resources Officer in February 2022. In this role, McCann is responsible for all aspects of human resources across Baptist Health, including strategies for attracting, developing, engaging and retaining talent, promoting diversity and inclusion, and strengthening employee engagement in support of Baptist Health's mission.
Prior to joining Baptist Health, she was the senior vice president and chief human resources officer at the University of Maryland Medical System (UMMS), an integrated health system provider in Maryland consisting of 13 hospitals with nearly 30,000 employees. Prior to this role, she was the vice president of System Human Resource Services.
Before UMMS, McCann held various leadership positions at Dartmouth-Hitchcock Medical Center in New Hampshire, the Rochester Regional Health System in New York and Catholic Medical Center in New Hampshire.
With more than 30 years of HR experience in the health care industry, McCann has a passion for building a strong, inclusive and diverse culture. While in Maryland, she was a member of the Diversity, Equity and Inclusion committee for the Maryland Hospital Association. She was also appointed by Mayor Brandon M. Scott to be a board member on the Baltimore Workforce Development Board.
After earning a Bachelor of Science degree in Business and HR Management from Southern New Hampshire University, McCann earned a Master of Science degree in HR Development from Towson University. She also holds a Certificate in Strategic Leadership from the University of Maryland Robert H. Smith School of Business.
McCann is the proud mother of three young adult daughters and one granddaughter.